Shinshu University Ranks 9th in Japan, 201-300 in the world on THE Impact Ranking 2020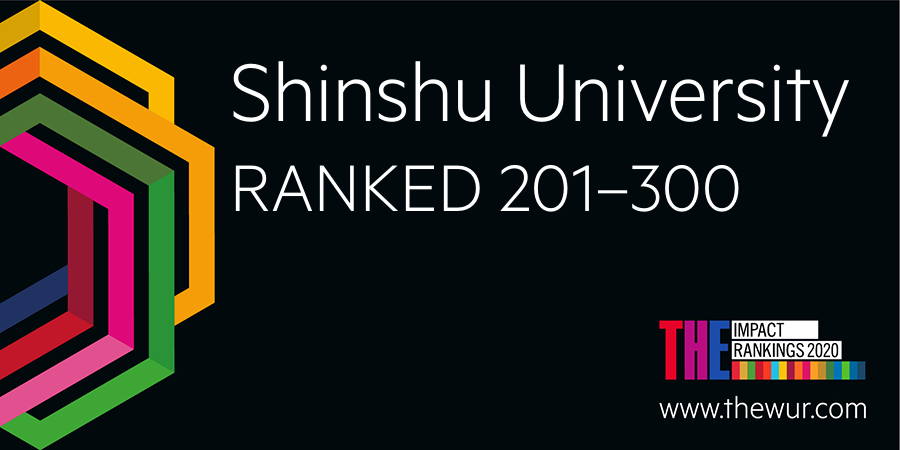 Times Higher Education (THE), the UK's specialized journal for higher education, has announced "THE University Impact Ranking 2020" based on the evaluation of the SDGs efforts of universities around the world. 767 universities from 85 countries participated including 63 universities from Japan. Shinshu University ranked 201-300th overall in the world and 9th in Japan.

The Sustainable Development Goals (SDGs) are 17 goals with 169 targets that were adopted by the United Nations Summit in September 2015 to achieve a sustainable world.
The "THE University Impact Ranking 2020" aims to improve the social contributions of universities for the environment, human rights, health and welfare. Out of the 17 goals of the SDGs, Goal 17 "Partnerships for the goals" and three goals with the highest scores were combined for a comprehensive evaluation.

Shinshu University had Goal 2 "Zero Hunger" (39th place in the world and 5th place in Japan), Goal 12 "Responsible Consumption and Production" (63rd place in the world and 4th place in Japan), and Goal 15 "Life on Land" which received particularly high evaluations as 55th place in the world and #1 in Japan.

We believe that these results are due to our continuing efforts based on the following basic policies of university management: 3"G"s Green, Global, Gentle and 3"L"s Local, Literacy, and Linkage. We will continue to contribute to society through education, research and all other activities.

THE University Impact Ranking 2020 Official site