Location
3-1-1, Asahi, Matsumoto City 390-8621
International Arrivals
Download PDF of International Arrivals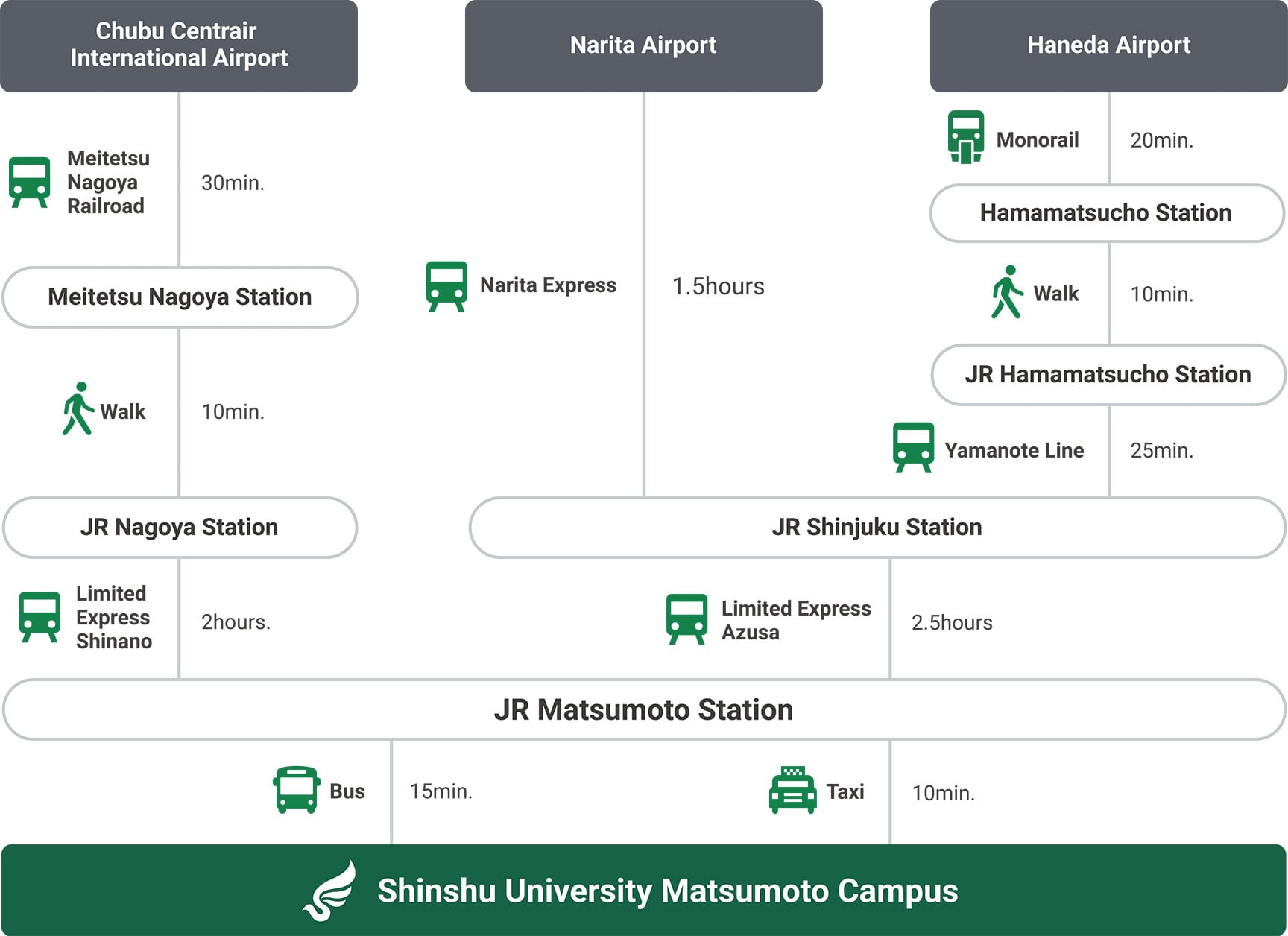 Access
From the main exit (Castle exit or East exit) of JR Matsumoto station, head right and cross the road to ALPICO PLAZA, go down to the basement bus terminal ("Matsumoto Bus Terminal") and take a "Shindai Yokota circular line" or "Asama line".
It takes about 15 min. Get off at "Shinshudaigaku Mae."

For the Faculty of Arts, the Faculty of Economics and Law and the University library, get off at "Daigaku Nishi Mon", one stop later of "Shinshudaigaku Mae."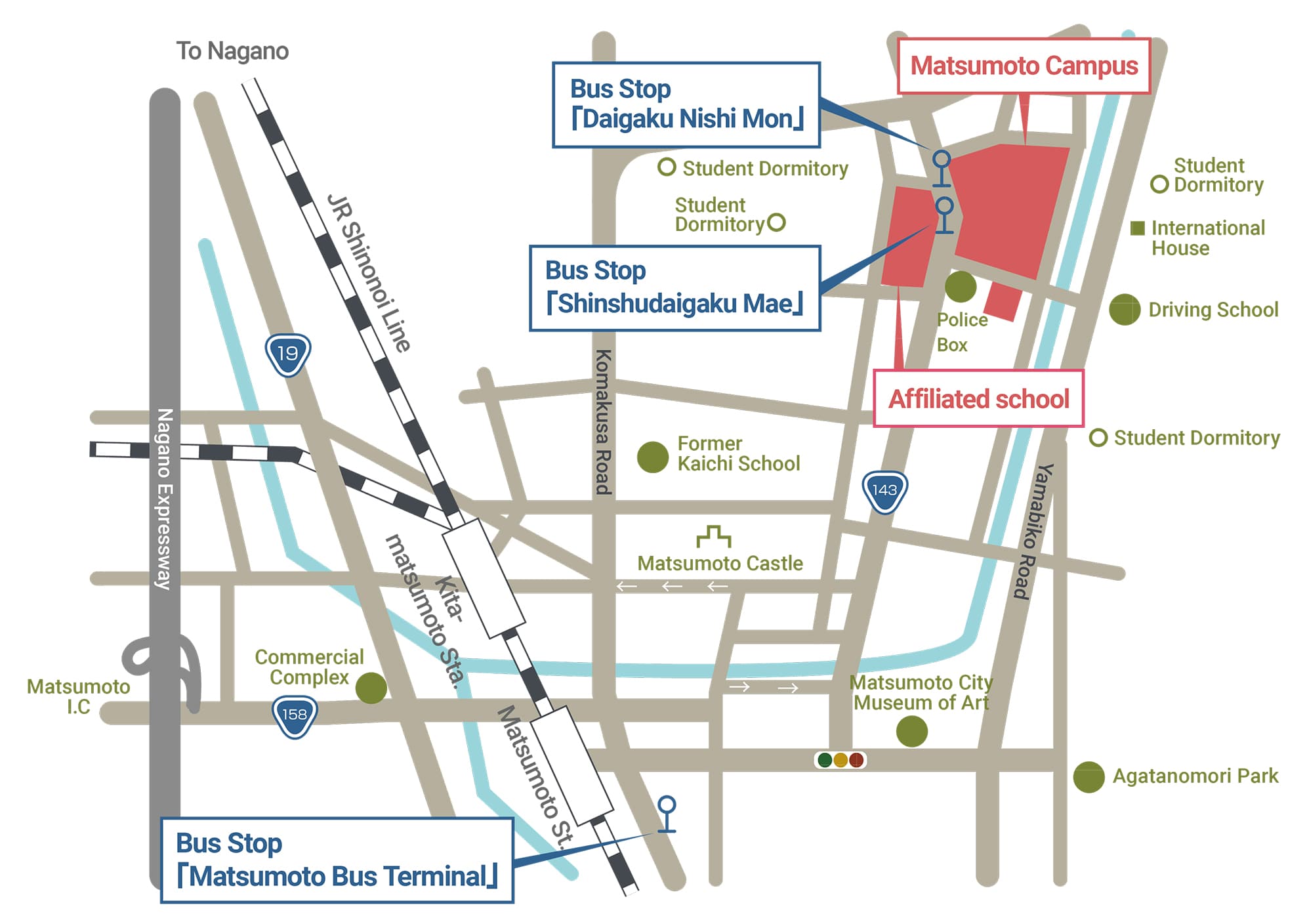 Campus Map
Download PDF of Campus Map
Download PDF of Campus Accessibility Map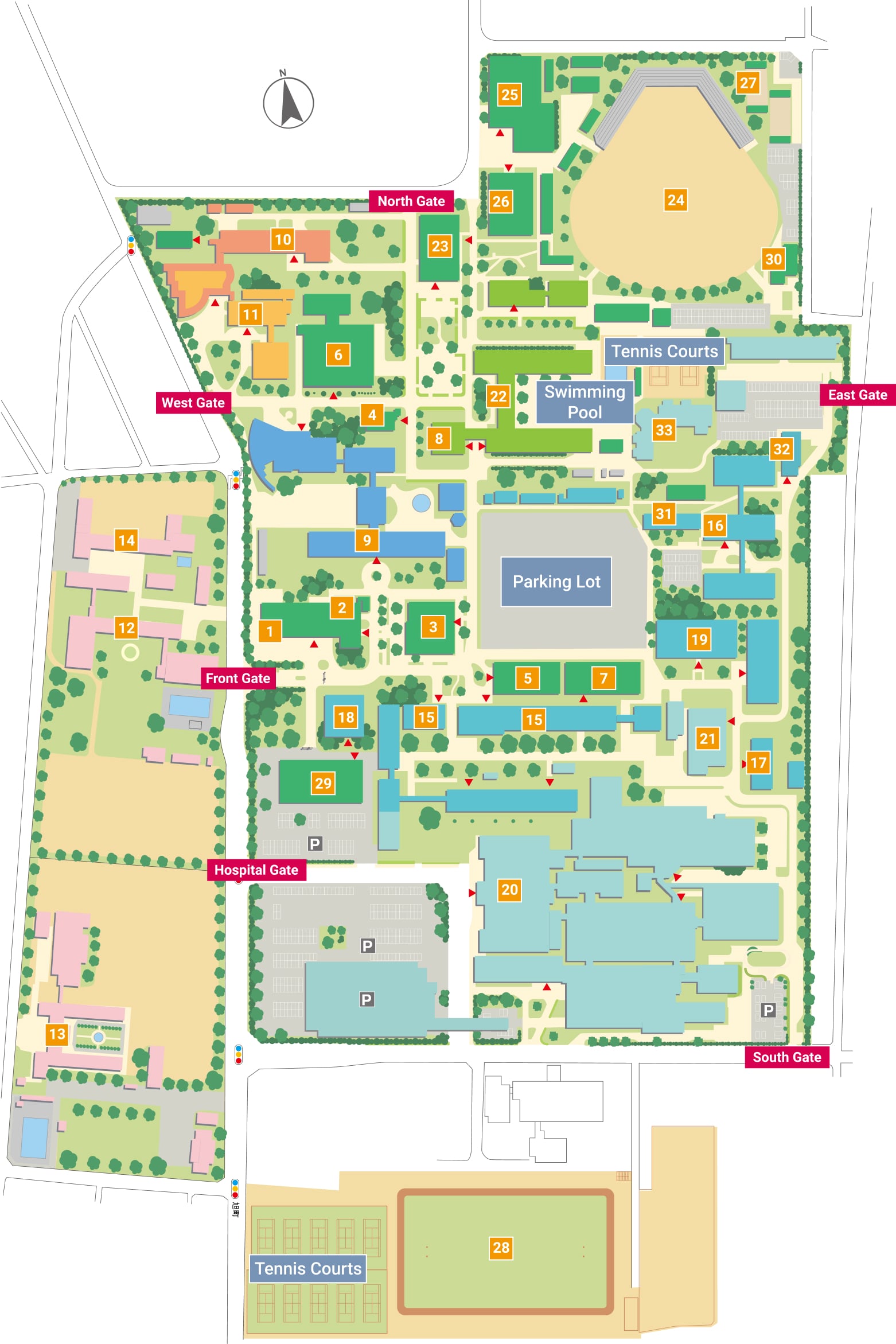 1Headquarter
Center for Disaster Mitigation and Prevention
2Center for Health, Safety and Environmental Management
3Asahi Hall
4Center for Information Infrastructure
5Asahi Life Science Research Building
Institute for Biomedical Sciences (IBS)
Research Center for Advanced Science and Technology
(Division of Instrumental Research (DIR))
6University Library / Central Library Shinshu University Archives
7Research Center for Advanced Science and Technology
(Division of Gene Research, Division of Animal Research, Division of Radioisotope Research)
8Center for Teaching License Renewal
9Faculty of Science
10Faculty of Arts
11Faculty of Economics and Law
12Matsumoto Elementary School
13Matsumoto Junior High School
14Kindergarten
15School of Medicine
Center for Advanced Research of Gene and Cell
Therapy in Shinshu University
16School of Health Sciences
17Institute of Pathogenesis and Disease Prevention
18Medical Library
19Lecture and Practice Room (School of Medicine)
20University Hospital
21Central Machine Room
22Center for General Education
Student Support Center (1F)
Career Support Center (1F)
Student Advisory Center (1F)
e-Learning Center
Center for Global Education and Collaboration (2F)
Center for the Teaching Profession (2F)
Research Center for Higher Education (4F)
23Purchasing Division (1F)
Cafeteria (Azumi Hall)(2F)
24Baseball Field (Third Athletic Ground)
25First Gymnasium
26Second Gymnasium
27Archery Hall
28Green Field (First Athletic Ground)
29Center for Shinshu Medical Innovation of Regional Technology
University Research Administration Office (URA)
30The Shinshu University Museum of Nature and Science
31Research Data Room
32Center for Community Health Promotion
33OHISAMA Nursery School