JST Fair 2018: Global Aqua Innovation Center Attended as an Exhibitor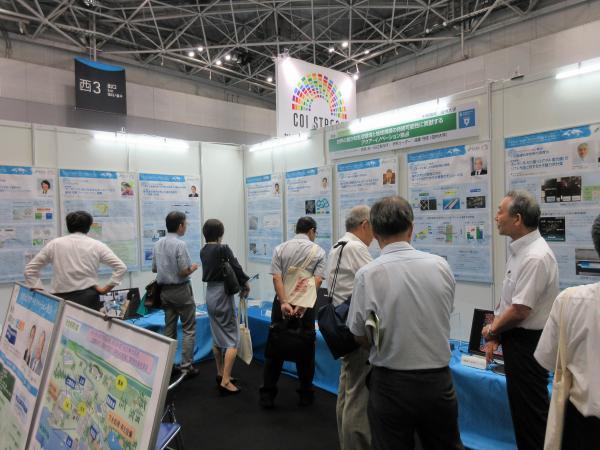 The "JST Fair 2018", organized by Japan Science and Technology Agency (JST) aiming for "Creation of Future Industry through S & T", was held at the Tokyo Big Sight on Aug 30-31, 2018 to show research achievements of JST programs. Global Aqua Innovation Center of Shinshu University also put up a display booth for their presentation.
JST Fair is the exhibition for the innovative basic research results contributing to the future economic society and best practice of commercialization through industry-academia collaboration. 18 COI (Center of Innovation base) attended as exhibitors.
In Shinshu University booth, the university research team, companies, and research institutions displayed posters and development products as fruits of research for over 5 years.
The Nano Carbon Membrane Research Group, led by Distinguished Professor Morinobu Endo, demonstrated a pigment removal from oolong tea using a water treatment membrane module with carbon nanotube (CNT) developed at Shinshu University.
We showed that oolong tea became colorless and transparent by passing through the module and introduced the performance of nanocarbon membrabe which can remove not only pigment but also various organic / inorganic substances in natural seawater and freshwater.
In addition, we set up a 3D experience corner where people can visually feel how water molecules are in the carbon membranes.
They observed simulation images of water molecules with 3D dedicated monitor and spectacles and experienced the mechanism of seawater desalination with carbon membranes.
We also exhibited research results steadily progressing toward social implementation, such as a faucet integrated water purifier using inorganic crystalline materials that can adsorb and remove heavy metals, or resin material products kneaded with carbon nanotube cellulose nanofibers (CNF) which is used for piping unit of water treatment plants.
In response to natural disasters occurred frequently in this summer, many people asked questions about the emergency use of membrane technology for drinking water. As well as we reacknowledge that it's the imperative task to ensure a safe supply of water even for the water-rich Japanese, we felt the high expectation for Shinshu University's research. We will continuously work toward the goal of Global Aqua Innovation Center "improving living standards and water sustainability".