Elucidating the mechanism by which cell adhesion molecules related to neurodevelopmental disorders properly connect nerve cells via calcium ion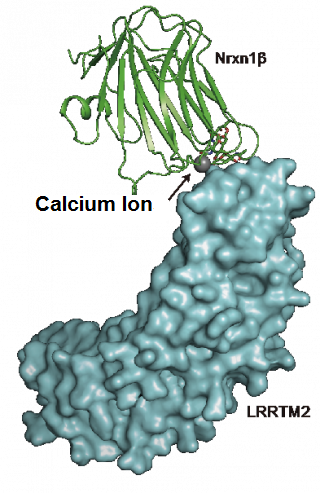 A research group including Associate Professor Takeshi Uemura of Research Center for Supports to Advanced Science (RCSAS) at Shinshu University and Associate Professor Shuya Fukai of Institute for Quantitative Biosciences (IQB) at the University of Tokyo elucidated the mechanism how cellular adhesion molecules Nrxn1β and LRRTM2 determined the three-dimensional structure of complexes formed through the intermediary of calcium ion to interconnect neurons precisely. The research result was published on UK science journal "Nature Communications" on September 27.
The formation and reorganization of synapses, which are connections between neurons, is an important step that occurs during the formation of neural circuits and memory learning, and it is suggested that the regulatory dysfunction is closely related to the onset of neurodevelopmental disorders such as autism. Nrxn and LRRTM, which are cellular adhesion molecules related to mental retardation, are located at the presynaptic and postsynaptic terminals respectively, and selectively interact to induce the formation of excitatory synapses.
The research group determined the three-dimensional structure of binding complex of Nrxn1β and LRRTM2 by X-ray crystal structure analysis, and found the molecular mechanism how these molecules selectively interacted via calcium ions. It is expected that this research achievement will be useful for clarifying the mechanism of neural circuit formation and for future studies related to neurodevelopmental disorders such as autism.