"Universal Field Concierge Training Course" was opened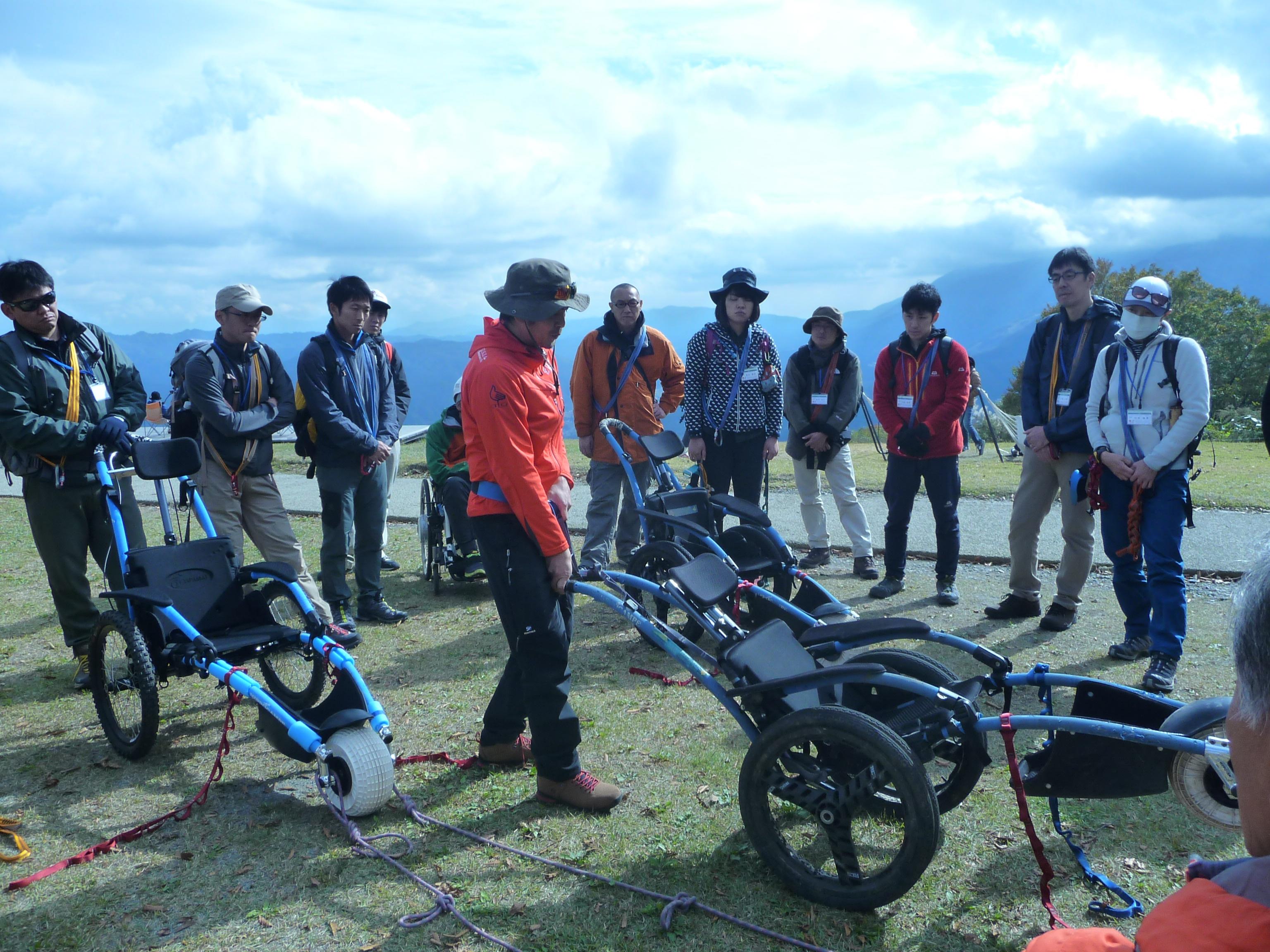 On September 18th, 2018, Shinshu University held an opening ceremony for the training course of the Universal Field Concierge at Matsumoto Campus. The Universal Field refers to an environment that enables everyone to access, through making various people with different physical and mental conditions interact themselves to obtain ideas and others' supports, rather than simply meaning an environment with or without the presence of physical constraints and facilities.
This Course targets wheelchair users, whether or not they have access to Barrier-free environment and whether or not they have any kinds of handicaps, together with their family members and friends, so that all of them could acquire technical knowledge necessary for enjoying nature altogether. This Course also intends to train these participants as human resources who are capable of doing relevant activities: the planning of tourism products that are organized by the Universal Field, the provision of advice to tourism agencies, and the coordination with tourism agencies as well as tourists. This Project has been supported by "Japan Tourism Agency"(Ministry of Land, Infrastructure, Transport and Tourism)Program in FY2018, that aims to develop and strengthen the skill of tourism producers, agents through Industry-Academia collaboration.
The participants for the Course comprised 17, including 2 disabled persons, who were mainly from tourism organizations and associations, facility operators, tourism companies, bus companies, and a barrier-free center, that are located in not only Nagano Prefecture, but also in Tokyo and Oita.
Through the 6 sessions in total, from September to February, the participants will learn six factors that the Universal Field Concierge is required to be equipped with: (1) planning ability, (2) technical knowledge, (3) coordination ability, (4) communicability, (5) communication skills, and (6) ability to evaluate and enhance. Through the sessions, they are expected to acquire practical abilities to plan tourism products that are organized by the Universal Field, to advise to tourism agencies, and to coordinate with tourism agencies and tourists. The contents of the Course shall be on the following themes:
The 1st lecture: "Basic knowledge that the Universal Field Concierge is required to have for the marketization of the Universal Field Tour"
The 2nd Lecture: "How to handle technical equipment and safety management" that will be implemented in the Iwatake Mountain Resort
The 3rd Lecture: "Towards the materialization of the Universal Field Tour utilizing mountainous tourism resources"
The 4th Lecture: "Universal Business Contest for areas of the participants"
The 5th Lecture: "The implementation of the Universal Field Monitor Tour (1 night and 2 days)
The 6th Lecture: "Examination of the Universal Field Monitor Tour & Graduation Ceremony"