Mr. Kashitani of MIC and his party visited "Smart Care Unit" at Shinshu University Hospital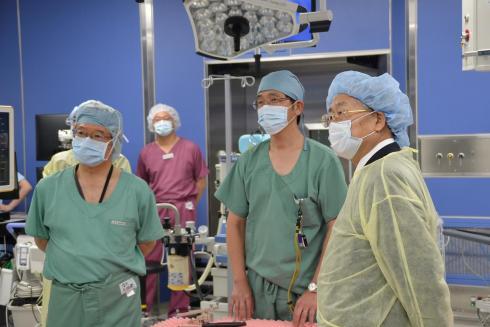 On December 18th, 2018, Mr. Takao Kashitani, Director of Kashitani Accounting Office and Chairperson of Commission on Evaluation of Independent Administrative Institutions, Ministry of Internal Affairs and Communications, and a responsible officer of the Administrative Management Bureau that functions as the secretariat for the Committee, visited Shinshu University Hospital.
Dr. Kunihiro Hamada, the President of the University, conveyed a welcome speech, followed by a summary explanation on the Hospital that Takayuki Honda, the head of the hospital, provided. Then, Professor Kazuhiro Hongo of Neurosurgery explained about general conditions regarding the "Smart Care Unit" that has been installed within the inclusive advanced care facility since April. The "Smart Care Unit" has been developed with an assistance from Japan Agency for Medical Research and Development (AMED). It has connected almost all of the equipment in the Smart Care Unit through the network, which enables the Unit to coordinate with an administration system for medical care images and to function for the communication with medical doctors and staff members staying as a strategy desk at the medical office. Clinical research activities have been started since July, which are expected to contribute to the enhancement of efficiency and safety in the operations, human resources development of surgeons, and educating students.
Following these explanations, Professor Hiroshi Imamura at the Advanced Emergency Medical Service Center explained about a summary as to the Advanced Emergency Medical Service Center and some roles played by the Shinshu Helicopter Ambulance Matsumoto. He introduced the role of the Center in light of the secondary medical area and regional characteristics of Nagano Prefecture, and some actual examples of medical responses at disaster cases, such as emergency transportations from mountainous areas, emergency supports for the eruption of Mount Ontake in 2014, and so on.
After all the explanations from the hospital, the visitors were guided to tour the facilities. In an operation room, Dr. Tetsuya Goto, Lecturer at the Neurosurgery, explained about the "Smart Care Unit" by showing images and data of the operations. At the Advanced Emergency Medical Service Center, the visitors observed an emergency room (ER) and the Helicopter Ambulance on the roof heliport.
Lastly, Professor Nobuhiro Sugihara, Director of Shinshu University Innovative Research & Liaison Organization (SUIRLO), explained as to the efforts in medical-engineering coordination at Shinshu University as well as Center for Shinshu Medical Innovation of Regional Technology (CSMIT), followed by a tour at a rental laboratory inside the Center. Mr. Kashitani and others observed actual experiments in the laboratory, picked up some products under development, and enthusiastically listened to explanations of research contents by faculty members of the University and some corporation researchers that conduct their research activities in the laboratory.