Celebrating the 70th Anniversary of Shinshu University, 100th Anniversary of the former Matsumoto Higher School!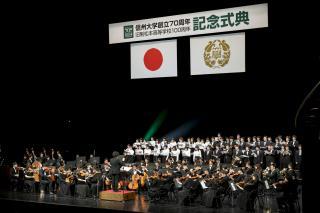 On June 1st, 2019 (First year of the Age of Reiwa), the celebration for the 70th anniversary of Shinshu University and the 100th anniversary of the University's predecessor, Matsumoto Higher School was held in Matsumoto, at the Matsumoto Performing Arts Centre.

There was a public lecture held in the morning entitled, "What you need for healthy living". Three professors of the Shinshu Medical School lead by department head Professor Kurita gave talks of their area of expertise, and the main attraction was a talk by Dr. Minoru Kamata, Honorary Director of Suwa Central Hospital. Citizens listened enthusiastically through laughter and tears.

The commemorative ceremony in the afternoon was attended by 1100 people. In the first section of the ceremony was an address from the President of the University, Kunihiro Hamada. As a co-chair of the event, Dr. Takahisa Kanda, representative of the Alumni Association gave a ceremonial address. Planning Officer Fumiaki Terashima from the Ministry of Education, Culture, Sports, Science and Technology (MEXT), Higher Education Bureau, National University Corporation Support Division gave a congratulation speech on behalf of MEXT, followed by the Governor of Nagano prefecture, Shuichi Abe. The first section concluded with a presentation of an honorary doctorate awarded to journalist Akira Ikegami, who has been a specially appointed professor at the University since 2010, teaching summer intensive law courses. This is the second ever honorary doctorate awarded following the world renown conductor, Seiji Ozawa.

In the second part of the afternoon was a talk session lead by the newly anointed Doctor Ikegami entitled, "The Early Days of Shinshu's Higher Education", followed by President Hamada's announcement of "VISION 2030", a long-term vision for Shinshu University. The ceremony ended with the first public rendition of the recently composed Shinshu University school song.

At the venue there were many exhibits, including a theater-zone projecting historical images from Shinshu University's predecessor school, and an exhibition zone showcasing the education, research, and social contributions made by the university.
In the evening a memorial celebration party was held at a hotel in the city.
The anniversary events will continue until the end of November this year.