Shinshu 100 year Business Project Launched!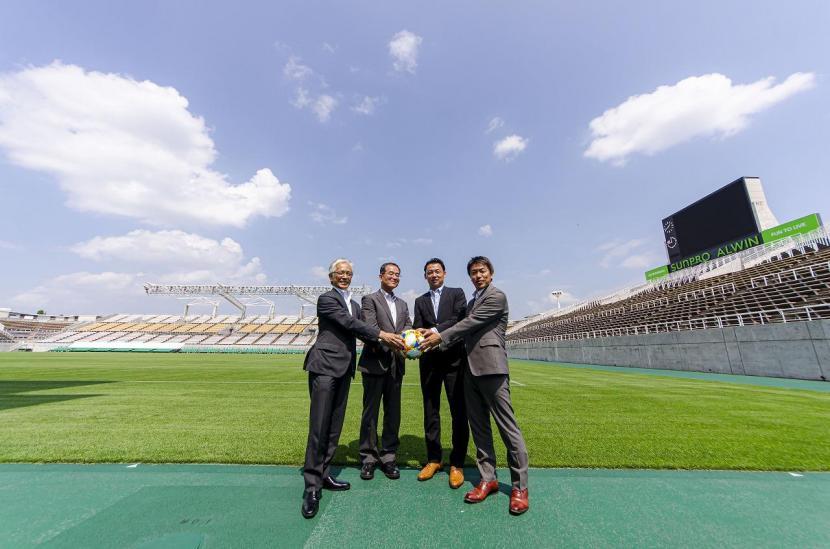 On July 30, Shinshu University and the Non-Profit SCOP, Matsumoto Yamaga, Japan Human Resources Organization created the "Shinshu 100 year Business Program Consortium", and launched the "Shinshu 100 year Business Project". The project was announced at the Sunpro Alwin (Matsumotodaira General Park Comprehensive Stadium) in Matsumoto City with a press conference.
This consortium comprises four organizations; Shinshu University- which provides practical recurrent education programs, designed and managed by SCOP- a regional venture think tank which got its start at the university, and the Japan Human Resources Organization who have the know-how to obtain core human resources, and Matsumoto Yamaga, the Japan Pro Soccer (J-League) member with the "Hundred Year Plan".
With this project, Shinshu University will accept human resources who are active in the metropolitan area as research fellows (visiting researchers) of the university, and provide a practical recurrent education program for six months to learn necessary skills for promoting corporate growth. These human resources will be matched with companies within the prefecture with the hope of growth of the host company and revitalization of the regional economy through the establishment of such personnel in the local economy and community. The ultimate vision of this project is for a creation of an ecosystem of human resource flow from the metropolitan area to the prefecture through the program.
Last year, a nationwide model program, "Small and Medium-sized Enterprise Human Resources Securing Support Project (Core Human Resources Securing Scheme Project)" was constructed with Shinshu University at the center. Following the success of the program, Yamaga, a local business with a strong commitment to the local community joined the project in 2019, with the help of SCOP, a local think tank representing the region serving as the executive office of the project to bring outstanding personnel to the prefecture and encourage them to establish themselves in the area. The project is a new regional development project with no prior precedents in the entire nation and aims for the creation of a continual self-sustaining management system. Please stay tuned and wish us success.