A Lecture, titled "The Career Vision and Gender Equality", opened to the public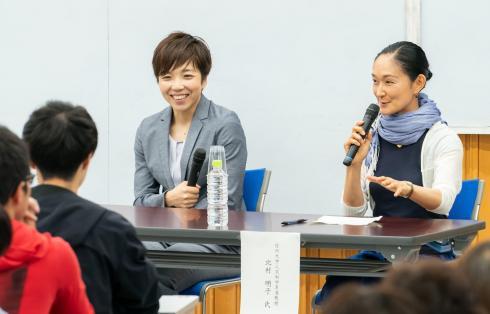 On May 30, 2019, a lecture titled "The Career Vision and Gender Equality: thinking of a society where everyone can shine" was organized as a common educational subject for the public audience. A main purpose of this lecture is to deepen the understanding of students on gender equality and participation, thus enabling to be beneficial for their future careers, through offering classes every time from different approaches such as law, history, and other perspectives.
With a theme of this session, titled "Let's challenge through your work!", Ms. Miyako Hamano, a member of the board of trustees, chaired a panel discussion to share a variety of experiences of the two panelists: Ms. Nao Kodaira, a graduate of Shinshu University and the gold and silver medalist in the women's speed skating at the 2018 Winter Olympics held in Pyeongchang, South Korea, and Dr. Akiko Kitamura, a choreographer and dancer and Associate Professor at the Faculty of Arts. Dr. Miho Nakashima, who is in charge of this lecture series, initiated the session with a summary note on the lecture before the panel discussion started.
Throughout the discussion, these athlete and artist actively who play active roles in the world exchanged opinions from each other's point of view. They dealt with such wide-ranged topics as their ways of thinking about work, how to communicate with others, employment, studying abroad, overseas activities, differences between genders, etc.
Taking her own challenges in overseas activities as an example, Ms. Kodaira said, "You need a courage to get out of your stable daily life. To get your way opened in an environment where you cannot find something that you had taken for granted, you need to be creative and eventually can train yourself." In addition, Associate Professor Kitamura said, "When you are placed in a predicament overseas, only most important matters appear before you, leaving other trivial matters behind. Through that process, you are empowered to sharpen your real purpose and goal."
The last part for questions and answers, the two panelists answered questions from six students and advised on what kind of attitudes would be necessary for realizing their dreams. Approximately 230 participants, including students and citizens, enthusiastically listened to the panelists. The lecture ended a great success.