Delegation from Shinshu University including President HAMADA Visited NEW MONGOL ACADEMY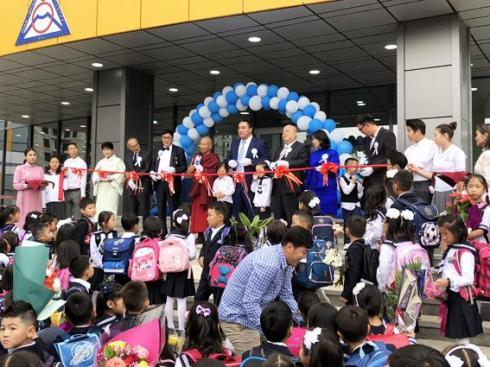 From Aug 30 to Sep 2, 2018, Shinshu University President HAMADA Kunihiro, Vice President TANAKA Kiyoshi, and Professor KIM Jo-Seol visited the New Mongol Academy in Mongolia. New Mongol Academy and Shinshu University have a Partnership Agreement and up to 40 international students from the New Mongol Academy studied at Shinshu University so far. Based on this relationship, this was the second school visit after the first one last year.
On August 31, after a meeting with the New Mongol Academy President Janchiv Galbadrakh and Principal Purevsuren Naranbayar, a presentation on the international exchange students program at Shinshu University was given to high-school students. In addition, the Shinshu University Alumni meeting was carried out and alumni and alumnae playing an important role in Mongolian society attended the meeting. On Sep 1st, the delegation attended the enrollment ceremony of the New Mongol Academy high school and President HAMADA made a congratulatory address.
Thereafter, the delegation made a school tour and attended the opening ceremony of the New Harumafuji Mongol School (primary, middle, and high school), collaboratively established by the New Mongol Academy and by the retired Mongolian "yokozuna", also known as the great sumo wrestler champion, Harumafuji.
The Minister of Education, Culture, Science and Sports (equivalent of MEXT in Japan), Ms. Tsogzolmaa, and the ambassador of the Japanese Embassy in Mongolia, Mr. Masato Takaoka, also attended the opening ceremony, which was carried out successfully. In the afternoon, they had an interaction with parents of international students, and attended the opening ceremony of New Harumafuji Mongol School in the evening. The visit was very fruitful for both schools.