nunotect mask: a cloth mask with a high-performance filter by NafiaS® (Shinshu University Certified Venture) on sale now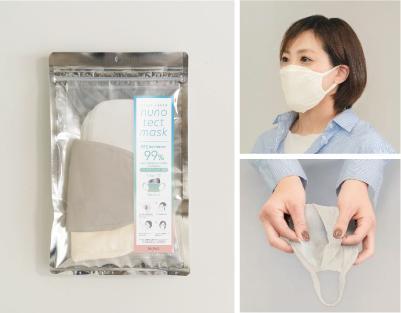 Shinshu University-approved venture company NafiaS® (Ueda City, Nagano Prefecture) has developed a functional cloth mask with a filter that collects 99% of fine particles and enhances the effect of blocking viruses. The demand for masks has increased since the novel coronavirus outbreak, and the company has utilized their background in producing NafiaS®N-95 masks to provide for this need domestically.

The sleek fabric (made of rayon) feels cool to the touch and is designed to be comfortable in the summer heat. The filter developed with Shinshu University is made of the nanofiber material, NafiaS®, with fibers 1/400 the thickness of hair. The masks can be purchased on Amazon for 6,000 yen which includes two cloth masks and 40 filters. It is recommended that the filter is changed after use, so replacement filters are scheduled to be sold beginning the end of June.