Shinshu University ranks at the top! University Regional Contribution Survey 2019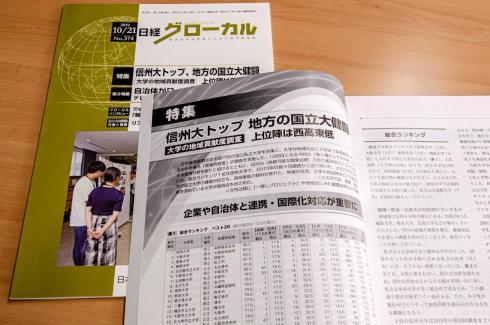 The Nihon Keizai Newspaper published the results of a survey conducted last year evaluating 755 public and private universities for their contributions to the community. There were responses from 548 universities and Shinshu University proudly ranks number one! (*1)

Five categories (38 questions) were examined for the evaluation:

"Organizations & policies" for promoting community contributions, public lectures and local events.
"Students & residents" such as local employment of students, university programs for working adults.
"Businesses & Governments" for the number of joint research with local governments and companies, and number of ventures from universities, etc.
"Glocal" for the number of international students and foreign teachers, employment of international students, etc.
"University as a place of employment" to evaluate post-doctoral measures and work-life balance for female faculty and staff.
Issues that reflect current social concerns on the "Glocal" front, such as initiatives for SDGs (sustainable development goals), were new to the questionnaire.
Shinshu University has consistently ranked at the top of the survey over the years, and continue to strive to use this evaluation to promote activities that contribute to the community.
(* 1) Source: National Survey on University Contributions to the Community 2019 (Nihon Keizai Shimbun)