2023/08/25
Signing of MOU with Saudi Arabia's Saline Water Conversion Corporation - Press Conference about the MOU Signing Ceremony -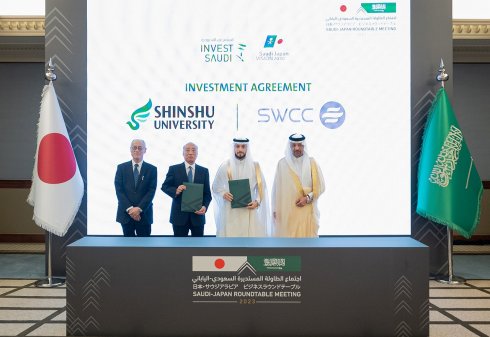 Photograph session at "INVESTMENT AGREEMENT" with the Ministry of Investment of Saudi Arabia and the Embassy (From left to right: Fumio Iwai, Ambassador of Japan to the Kingdom, Special Emeritus Professor Morinobu Endo, Tariq Ghassan Al-Ghafari (in charge of the Vision 2030 and the General Manger for Research and Innovation Projects), Khalid Abdulaziz Al-Falih, Minister of Investment of Saudi Arabia. Photo credit: Ministry of Economy, Trade and Industry
Shinshu University (SU) and Saudi Arabia's Saline Water Conversion Corporation (SWCC) signed a Memorandum of Understanding (MOU) in the Field of Seawater Desalination at the Saudi-Japan Business Round Table held in Jeddah, Saudi Arabia on July 16th, 2023, during the Prime Minister Kishida's visit to three Middle East countries (Jeddah, Saudi Arabia, Abu Dhabi, the United Arab Emirates, and Doha, Qatar).
SU and SWCC, which implements the world's largest seawater desalination project, have been enhancing their collaboration through activities such as seawater desalination experiments in the Arabian Gulf with the Reverse Osmosis (RO) membranes and modules made by SU, workshops, and a visit by the representatives of SWCC to SU President Nakamura in the past. In this regard, both parties have reached an agreement to sign the MOU to strengthen the research and development network for the nanocarbon RO membrane developed by SU, conduct joint research on new RO membranes, and promote educational programs for future talent.
On July 31st, President Soichiro Nakamura, Yoshihiko Amano, Vice President and Dean of the Faculty of Engineering, and Morinobu Endo, Special Emeritus Professor attended a press conference at Shinshu University, Nagano, Japan to announce the MOU signing.
Special Emeritus Prof. Endo, who participated in the MOU signing ceremony on behalf of President Nakamura, reported that the MOU was signed in the presence of Khalid Abdulaziz Al-Falih, Minister of Investment of Saudi Arabia, Fumio Iwai, Ambassador of Japan to the Kingdom, and Tariq Ghassan Al-Ghafari, Deputy Governor of SWCC (in charge of the Vision 2030 and General Manager for Research and Innovation Projects).
Special Emeritus Prof. Endo attended the Business Round Table chaired by Prime Minister Kishida, who expressed the development of "Japan-Saudi Vision 2030", which was agreed upon during at-the-time Deputy Crown Prince Mohammed's visit to Japan in September 2016, and also took part in a meeting to exchange opinions with other Japanese participants from different institutions.
Afterward, the participants were invited to Al-Salam Palace, the Palace of Crown Prince Mohammed bin Salman, where Prime Minister Kishida introduced SU to the Crown Prince of Saudi Arabia. Special Emeritus Prof. Endo expressed his gratitude and said that SU will continue to cooperate with SWCC for the development of the joint research as well as both countries. The Crown Prince Mohammed and Endo shook hands twice, which seemed a sign of high expectations.
This MOU is based on the research results of seawater desalination using the nanocarbon RO membrane, which has been led by Special Emeritus Prof. Endo in part of the Center of Innovation (COI) and COI Acceleration Support "Aqua Innovation Center of Shinshu University", which were promoted by the Ministry of Education, Culture, Sports, Science, and Technology and the Japan Science and Technology Agency (JST). Under the comprehensive concept of the strategic partnership between Japan and Saudi Arabia, this MOU is expected to further enhance the achievements and development in the future.