GEC invites students and professors from Brazil with the SAKURA Science Plan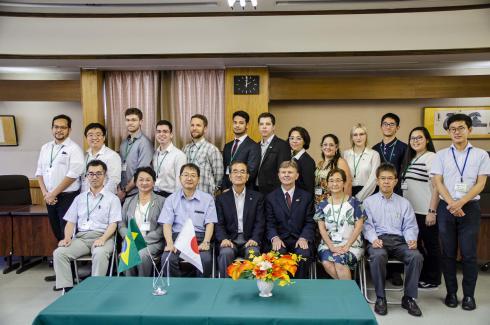 From July 7th through 13th, 2019, the Center for Global Education and Collaboration (GEC) invited 15 students and professors from Brazil as a part of the SAKURA Science Plan.

Planned mainly by assistant professor Yu Sengoku, this program was adopted as SAKURA Exchange Program in Science ("SAKURA Science Plan") by the Japan Science & Technology Agency (JST). 12 Brazilian students yearning to study in Japan and three leaders from five partner universities in Brazil visited Shinshu University and learned state-of-the-art science and technology such as the interdisciplinary field of medical-science-engineering collaboration, which our university is vigorously promoting, also coming into contact with the regional culture of Nagano Prefecture. The participators are from the Federal University of Technology - Paraná, Universidade Federal do Paraná, Universidade Estadual de Londrina, University of Sao Paulo, and Pontifícia Universidade Católica do Paraná - PUCPR.

On the first day of their stay, July 8th, they visited the Faculty of Science in the morning and visited Shinshu University President Kunihiro Hamada after lunch. Then they attended the Japanese class by a GEC professor and participated in the class "Multi-cultural Assimilation", one of the classes offered by the School of General Education.

On July 9th, they visited the Faculty of Agriculture in Ina Campus and then joined the factory tour of Yomeishu Komagane Plant. On July 10th , after visiting the Faculty of Engineering and the Global Aqua Innovation Center (COI) in Nagano-Engineering Campus, they paid a courtesy visit to Mr. Koiwa, Vice-Governor of Nagano Prefecture. On July 11th, they experienced the leading-edge medical equipment and facilities, visiting the School of Medicine, the Institute of Biomedical Sciences, and the university hospital.

In the wrap-up session in the morning of July 12th, the students stated that they got to have stronger ambitions to study at graduate schools of Shinshu University after visiting the laboratories related to their own specialties. They also expressed their impression of experiencing various aspects of Japanese culture during their first stay in Japan. In the afternoon, they joined the factory tour of GOLD PAK CO., LTD and visited Matsumoto Castle. Finally, the program wrapped up with a splendid farewell party in a local-cuisine izakaya.

This program will contribute to the stimulation of academic cooperation and exchange between Shinshu University and Brazilian universities in the future.