First 2016 Presidential Office Hours Held on the Matsumoto Campus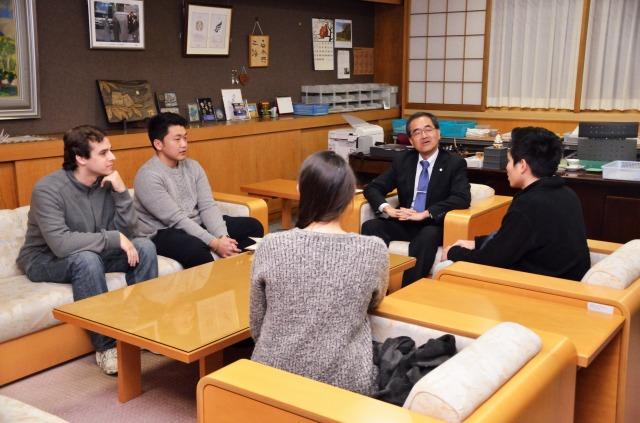 Presidential Office Hours are special sessions that provide a venue for international exchange students and the university president to engage in direct conversation. These sessions are held every year since 2004 with the aim of utilizing the students' comments and opinions to improve the operation and management of international affairs in Shinshu University.
The first Presidential Office Hours session for 2016 academic year was held on November 7, and during this session four international exchange students visited President Kunihiro Hamada's office to discuss a wide variety of topics. The four students, from Thailand, Italy, Mongolia and the United States, talked about their lives in Nagano Prefecture, including the linguistic challenges that they face, their future dreams, the things they hope to do while studying in Japan and other related topics. President Hamada listened carefully to each word that they said, and at times interjecting his own personal advice and opinions. He was impressed as he took in the unique opinions and perspectives expressed by these international students.
President Hamada also took time to answer questions regarding his own goals and dreams from the international students during the session. These Presidential Office Hours sessions are able to provide a relaxing environment in which students could talk with the University's president freely.