The 1st Symposium on "Collaboration Consortium for Embedded and Wearable Devices" was held.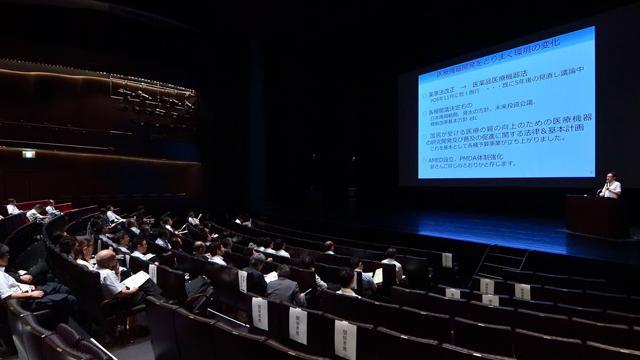 On September 7th, 2018, Shinshu University organized the 1st Symposium on "Collaboration Consortium for Embedded and Wearable Devices" at Matsumoto Performing Art Theatre.
The purpose of this symposium was to report on the activities of the Collaboration Consortium, that has been adopted as a research field for JFY2017 by the "Program on Open Innovation Platform with Enterprises, Research Institute and Academia (OPERA)".
With a theme, titled "Creation of a Development Platform for Implantable/Wearable Medical Devices by a Novel Physiological Data Integration System", the first presentation on the introduction of the project was presented by Professor Naoto Saito, Project Leader and the Director of the Institute for Biomedical Sciences, Shinshu University, together with Professor Takayuki Asao, Bid Data Center in Gunma University Initiative for Advanced Research (GIAR). This was followed a keynote speech by Mr. Shin'ichi Takae, General Manager, Office of Medical Devices I, Pharmaceuticals and Medical Devices Agency (PMDA).
For the introduction of research and development issues, that was moderated by Professor Nobuhiro Sugihara, General Director for Academic Research Support Division, Shinshu University-Innovative Research and Liaison Organization (SUIRLO), 4 research issues, out of the on-going 10 issues, were reported.
As for the Implantable Devices, the following issues were reported:
Issue 1 "Basic Study on Stability in Living Body of Cochlear Implant Electrodes and the Development of Drug Controlled Release Electrode and Its Effectiveness", presented by Professor Shin'ichi Usami, School of Medicine, Shinshu University;
Issue 2"The Research and Development on Left Ventricular Assist Device with No Complications and with Long-Term Stable Drive", presented by Mr. Shun'ichi Yamazaki, President, Sun Medical Technology Research Corporation).
As for Wearable Devices, the following presentations were made:
Issue 3 "The establishment of wearable super small size oxygen cconcentrator systems and the examination on the reduction of burdens for users", presented by Professor Keisaku Fujimoto, Department of Biomedical Laboratory Sciences, School of Medicine;
Issue 4 "Study on Vital Signs Embedded Wearable Devices", presented by Professor Hiroaki Ishizawa, Institute for Fiber Engineering, Shinshu University.
These abovementioned presentations introduced research and development examples of Implantable and Wearable Devices as advance research and their practical uses.