Saudi Arabian Cultural Attaché Visits Global Aqua Innovation Center at Shinshu University in Search of Opportunities to Send Students from Saudi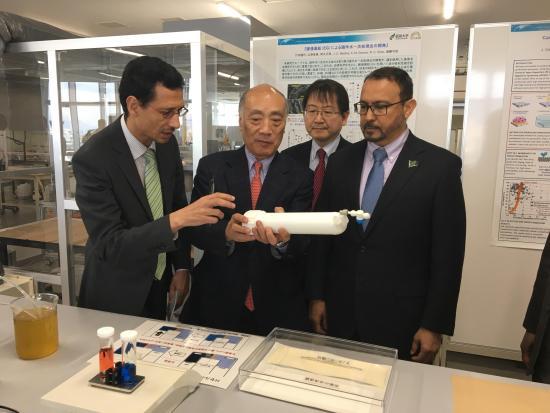 On March 29, Saudi Arabian Cultural Attaché, Prof. Khalid Al Farhan and his party, visited International Center for Science and Innovation (AICS) at Shinshu University, the headquarters of Global Aqua Innovation Center Project (COI), to meet and discuss with AICS leaders including Distinguished Professor Morinobu Endo. Royal Embassy of Saudi Arabia-Cultural Office, which is responsible for supporting students overseas and cultural exchange project, had particular interest in COI project and realized the visit. Prof. Al Farhan expressed that "COI project is even more excellent than we had imagined. We are most interested in having opportunity to send students and researchers from Saudi Arabia to study collaboratively."
In addition to Prof. Al Farhan, the visiting party included Mr. Maisara Afifi (Academic Advisor of Academic Dept.), Imad Barnawi (Chief Advisor of International Cooperation Dept.) , and Yumi Yamakake (Advisor of the same). In the Oval Studio on the second floor of AICS where morning session was held, these four were met and greeted by 15 attendants from Shinshu University, including Executive Vice President Soichiro Yamada (who is in charge of general affairs, environment and facilities), Vice President, Shiro Handa (who serves as dean of the Engineering Faculty and director of AICS), Vice President Kiyoshi Tanaka (who is in charge of international affairs).
Following the explanation of project outline by Dr. Endo and two COI researchers, Dr. Junichi Yoshitani, professor of Water Environment and Civil Engineering, explained the effort of water resource management in Japan. Laboratory tour on 7th and 1st floor of AICS was conducted. Lunch meeting was also held.
The economic reform plan "Saudi Vision 2030" announced in April 2016 expresses Saudi's intention to depart from oil-dependent economic and build a nation based on investment income. According to Prof. Al Farhan, Saudi Arabia focuses on the three key areas: petroleum energy, recyclable energy, seawater desalination, and plans to significantly increase the number of students from Saudi to strengthen the collaborative relationship with Japan. He explained "Shinshu University is considered as one of the important partner Universities where the students from Saudi study something useful in the field of seawater desalination. We, the Cultural Office, intend to support Saudi Arabian government agency "The Salin Water Conversion Corporation (SWCC)" and students to choose Shinshu University as an important candidate for their study abroad destination."