One member in ICCER was certified as Fourth "Rising Star" Researcher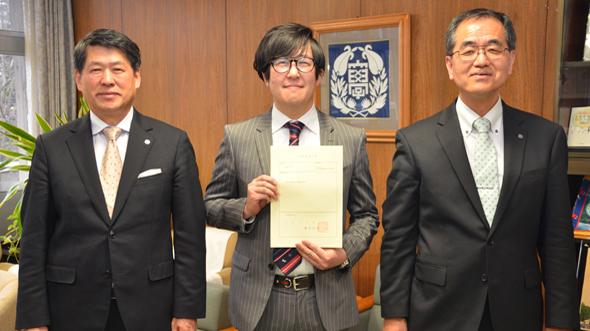 On April 3, 2017, a ceremony was held to officially designate the fourth "Rising Star" (RS) researcher at Shinshu University. The latest RS is Dr. Nobuyuki Zettsu. He is an associate professor in Department of Engineering, and Center for Energy and Environmental Science. Dr. Zettsu has earned many public research grants and many other academic accomplishments which is specializing in the field of material science for energy conversion. All of these achievements have contributed to his outstanding evaluation as a faculty member of Shinshu University.
Three other faculty members have previously been designated as RS researchers: Associate Professor Kim Ick Soo of the Institute for Fiber Engineering (Nanofibers), Associate Professor Yuji Shiba of the Institute for Biomedical Sciences (Regenerative medicine), and Associate Professor Shizue Masuki of the Institute for Biomedical Sciences (Exercise physiology).
Rising Star (RS) System
A system for designating particularly outstanding young researchers from among the university's researchers in the research clusters as "Rising Star (RS) Researchers" has been newly instituted. The objective is to cultivate up-and-coming RS researchers to become Super Star (SS) Researchers, and to strategically promote talent innovation to create new academic areas and cultivate core technologies by promoting cross-breeding of ideas among keen RS researchers.
RS researchers are provided with a research environment to enable advanced dedicated research, such as special support for basic research costs and ensuring research time, etc. In addition, priority support is provided in terms of preferential treatment in personnel aspects, reflecting evaluation of their results, etc.