Finland-Japan Joint Symposium in Tokyo: ICT-Based Smart Precision Forestry Using Laser Scanning Technology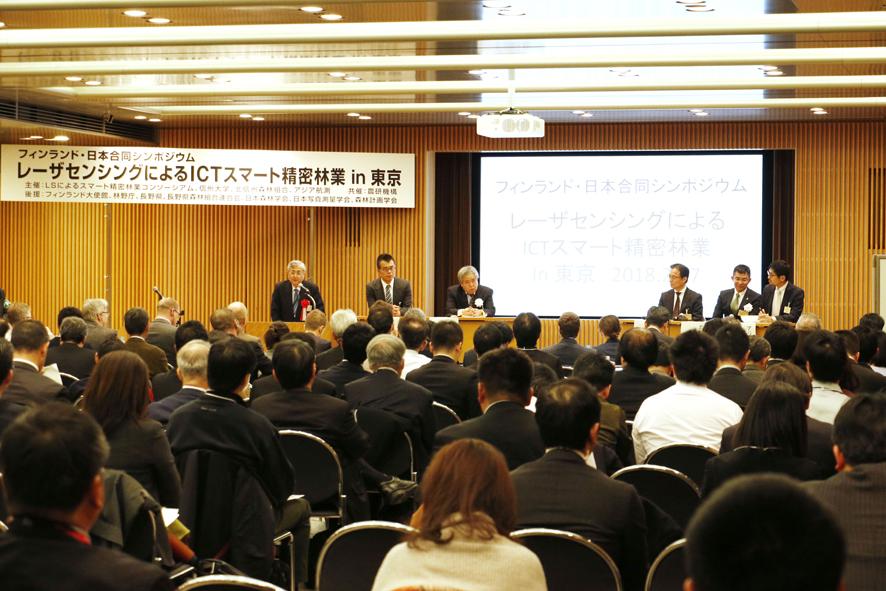 The Smart precision Forestry with Laser Scanning Consortium, made up of Shinshu University, J-Forest (Kita-Shinshu Forest Owner's Cooperative), and Asia Air Survey, Co Ltd., with support from the Embassy of Finland in Tokyo, the Forestry Agency of the Ministry of Agriculture, Forestry, and Fisheries, and Nagano Prefectural Government, hosted a symposium entitled "ICT-Based Smart Precision Forestry using Laser Scanning Technology" on February 27, 2018, at the Prefectural Assembly Hall in Chiyoda-ward, Tokyo.
ICT-based smart precision forestry is drawing increasing attention around the world. The Smart Precision Forestry LS Consortium has developed a collaborative project designed to build a timber supply chain throughout the timber-related industry, from forest owners to housing builders. The Nagano Model, as the project is called, integrates efficient forest inventory management and harvest information obtained by laser sensing methods, with a mix of cutting-edge technologies including the GIS-based forest management system, the satellite navigation system, harvesters fitted with IoT functions, and cloud services.
With presentations from many researchers in the field, including professors from Finland's Centre of Excellence in Laser Scanning Research, a world leader on laser scanning systems for forest management, the joint symposium provided useful input for transforming Japanese forestry into a growth industry.