Faculty of Agriculture Joins the COI Program of Tokyo Tech "Research Center for the Earth Inclusive Sensing Empathizing with Silent Voices" as a Satellite Institute.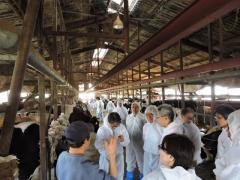 Shinshu University joined the "COI STREAM - Research Center for the Earth Inclusive Sensing Empathizing with Silent Voices" of Tokyo Institute of Technology (Tokyo Tech) in April 2018 as a satellite institute. On April 20, involved parties of Japan Science and Technology Agency (JST) and Tokyo Tech made a satellite visit to the Faculty of Agriculture and Dr. Kenichi Takeda, Associate Professor of Faculty of Agriculture and leader of Shinshu University Satellite, introduced the Education and Research Center of Alpine Field Science (AFC) as a place to research. They also visited neighboring ranch to make an impassioned exchange with producers.
"COI STREAM -Center of Innovation Science and Technology based Radical Innovation and Entrepreneurship Program-" is a support program of Ministry of Education, Culture, Sports, Science and Technology (MEXT) and JST to realize a groundbreaking innovation by Industry-Academia collaboration. Tokyo Tech's COI STREAM aims to realize a circulation model to solve issues of human, society, and environment with a human/earth-friendly method of the "Earth Inclusive Sensing" to listen to and empathize with "silent voice" of whole organism.
Shinshu University Satellite is responsible for "Empathy with silent voices of animals" and perceives cow's estrous cycle and health condition (silent voices) by multi-modal sensing of cow's activities and by data processing with AI. We aim to develop a new livestock producing system to provide a required data to breeding manager and share the breeding status with consumers.