A First for Nagano: The Perennial Snow Patch of Kakunezato was Confirmed to be a Glacier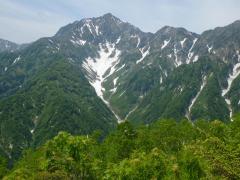 Kakunezato, a perennial snow patch on Kashima Yarigatake (altitude of 2,889 meters) in the Northern Alps, Omachi City, Nagano Prefecture, was confirmed to be a glacier. This was the first glacier that was confirmed in Nagano Prefecture (the fourth in Japan). Tomoyoshi Kosaka, Specially Appointed Professor of Faculty of Science at Shinshu University and the head of an academic investigation team consisting of institutes including Shinshu University, held a press conference in Omachi City the other day.
Omachi Alpine Museum, the Faculty of Science of Shinshu University, Tateyama Caldera Sabo Museum, and the Nagano Environmental Conservation Research Institute (in the order of the Japanese syllabary), have been conducting a joint research since 2014. The possibility that Kakunezato, a perennial snow patch, is a glacier has been pointed out since 1930, it has now been academically proven after about 90 years.