Summer Study Program on Agriculture and Agro-industry in Japan Held with Students from Indonesia's Jambi University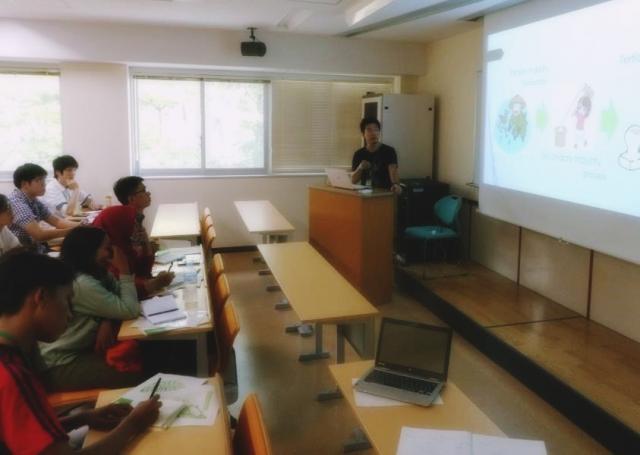 Students from the Indonesian Jambi University's School of Animal Science were invited to attend the "Summer Study Program on Agriculture and Agro-industry in Japan" together with students from Shinshu University's Faculty of Agriculture from August 5 to 9, 2016. Four students from Jambi University and eight from Shinshu University took part, enjoying this rewarding program and all it had to teach them. All program sessions and interactions were carried out in English.
The program started off with an introduction by Shinshu University's Faculty of Agriculture students to agriculture, processed agricultural products, the livestock industry and forestry in Japan, particularly as they relate to Nagano Prefecture. Japanese students unaccustomed to speaking English boldly challenged themselves as they gave presentations and answered Jambi University student questions in the foreign language. Additionally, in order to introduce the research efforts of the Faculty, Shinshu University doctoral and master's course students in the field of animal nutrition science gave presentations, and program organizers offered the students from Indonesia the opportunity to participate in the Faculty's open campus event on August 6, which involved visits to research facilities, and also to visit a field research site (for a project using abandoned agricultural land for sheep grazing in Takato). All of these unique research efforts fascinated the Jambi University visitors deeply. During a visit to the Shinshu University Alpine Field Center (AFC) Nobeyama Station, students took part in hands-on cabbage picking, talked with lettuce and Chinese cabbage (hakusai) farmers active in the Yatsugadake region which is famous for its production of highland vegetables, and toured JA Nagano's Yatsugadake Product Collection Facilities. Finally, in order to experience Nagano Prefecture food product plants, they also toured the Takeya Miso production plant in Suwa City and the Yomeishu Seizo brewery in Komagane City.
On the final day of the program, students reviewed what they had learned; compared the current states of and issues faced by the agricultural and processed agricultural products industries in Japan, Indonesia and Vietnam; and then split up into groups to give presentations. Participating students gave a variety of feedback following the program, including "I was able to rethink some of the characteristics, strengths and problems present in my own country's agricultural industry by learning about and developing an awareness of the current state of, and issues faced by, agriculture in other countries," "I realized the importance of striving for better communication skills in English through presentations reviewing everything we'd done, efforts to translate explanations into English during facility tours, and joint efforts and cooking activities at the AFC Nobeyama Station," and "I want to learn more about my own country's agricultural sector and study at Shinshu University in the future!" The Summer Study Program seems to have provided extremely enjoyable and fulfilling experiences for students and instructors alike.