Interest in "Curara®" at the 41th International Home Care & Rehabilitation Exhibition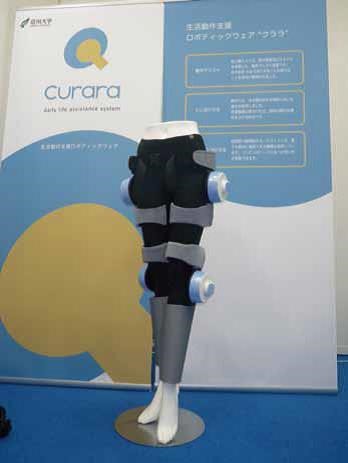 The robotic wear "Curara®" for supporting daily activities was exhibited at the 41th International Home Care & Rehabilitation Exhibition held at Tokyo Big Sight on October 1 to 3, 2014. Curara® has been developed by Professor Minoru Hashimoto, Division of Mechanical Engineering and Robotics, Faculty of Textile Science and Technology, jointly with 2 manufacturers of motors, etc.
Curara® is robotic wear, worn by the elderly or persons with disability of their limbs to assist in the life behavior, and has been developed by Professor Hashimoto jointly with Sanyo Denki Co., Ltd., and Harmonic Drive Systems, Inc. At the Exhibition many visitors visited the booth, and in the presentation on the first day, students from Professor Hashimoto's research laboratory carried out a demonstration by actually wearing Curara®, which was so popular that there was standing room only.

The feature of Curara® is that unlike conventional external skeleton-type suit, it has a non-external skeleton-type structure that assists the movements of each joint. In the case of lower limb type, in this way changes of walking direction and twisting of lower limbs are easy, so it is possible to move the body in a more natural way.
Also, in contrast to conventional suits which force walking movements with a fixed rhythm, Curara® follows the movements of the person wearing it and supports the movements, so more natural movements are possible.
In the future, the integrated type of upper limb and lower limb will be developed, and also the degree of finish will be improved by further miniaturizing motors and control devices, etc. In 2015 the Mark 3 prototype will be developed, with the aim of perfecting robotic wear for practical use.