Courses
Science of Functional Food Creation
Science of Functional Food Creation
Outline of Chair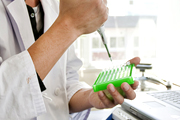 Particular attention of this division is to educate and study on the evaluation systems for the existing situations and problems of development of functional foods in the company,and also on the technology
in order to overcome the various problems involving patents in order to produce functional foods.
Research Fields
Food safety
Development of functional feed
For the purpose of fostering advanced but fundamental scholarship and profound expert
knowledge, this seminar will be held to carry out exercises concerning the field directly
related to the tasks for study.
In order to make students participate in seminars with attendance of teaching staff and
students of the different but related major fields of study invited from the other chairs or other
fields so that respective own research can be developed to the other fields other than the
particular major field, this seminar will be held to foster abilities to extend to develop or
challenge to the other field.
Under the Chief Guidance Teaching Staff and Vise-Guidance Teaching Staffs, to actively
make research on the theme of study which is decided through discussion with the Chief
Guidance Teaching Staff and to make publication (doctoral thesis).
Students may be trained practically in any public agency and business enterprise if effectiveness
on education is recognized.
Teaching and Research Faculty
Masaharu Kato   Visiting Associate Professor   Science of Functional Food Creation
Pharmacological function and clinical research in development of functional food
Kiyoharu Takamatsu   Visiting Professor   Science of Functional Food Creation
Biofunctional chemistry of functional food and medicinal agent
Motohiro Maebuchi   Visiting Professor   Science of Functional Food Creation
Development of functional foods and pharmaceutical compounds