Courses
Department of Mountain and Environmental Science
Department of Mountain and Environmental Science
Shinshu,a representative mountainous area of Japan has a great variety of natural environment.The mountainous areas are severe and sensitive in climate,and its environment changes drastically in time and with steep topography. Using the advantages of unique geography and geology in Shinshu, our doctoral degree program offers multidisciplinary education and research subjects, such as formation processes of mountains, environmental change of mountain areas, environmental preservation, and disaster prevention
Department of Mountain and Environmental Science - Course Outline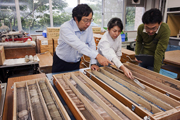 The Department of Mountain and Environmental Science is a new field of research with the purpose of creating a global research facility. It returns research outcomes to society while fostering talented people with related advanced expertise, and builds systems of research and education able to contribute internationally, domestically and locally. It consists of the following four chairs.

Environmental Sciences in Mountainous Area
Education and researches on atmospheric environment, hydrospheric environment and biospheric environment in mountainous area.

Science of Crustal Environment
Education and studies on the materials of mountains, processes of mountain building and erosion, mitigation of natural hazards, and environmental change on the basis of geologic records.

Rural Environmental and Symbiotic Science
Studies on the creation of symbiosis system of natural environment, agriculture, forestry and human life in the alpine and rural areas

Environmental Design Engineering
To make research and education concerning scientific methods of dealing with socio-environmental design of fusion and harmony among the nature and the human being
Department of Mountain and Environmental Science - Principles
Nagano is one of the most mountainous areas of Japan, with a natural environment awash with diversity and variability. Complex interactions between human activities and many types of natural phenomena, that cannot be seen anywhere else, can be observed in a mostly self-contained environment in the region. The severe climatic conditions and steep mountainous terrain of the region are extremely sensitive to environmental change.
This course aims to carry out research on environmental change in these mountainous regions along the timeline from past to future, and to carry out comprehensive research and education on environmental symbiosis, desired environmental protection and development of disaster prevention techniques. The course fosters specialists with the scientific and technological ability to respond initially to environmental issues in mountainous areas, and then to environmental issues throughout the world.
Department of Mountain and Environmental Science - Educational Policy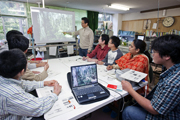 The Department of Mountain and Environmental Science course facilitates attendance at wide-ranging lectures and seminars that cross chair and course boarders, and provides students with broad insight in a multi-faceted interdisciplinary environment, in order to foster high-level professionals with a high level of ethics and a multidisciplinary perspective on the global environment.
Department of Mountain and Environmental Science - Careers
Graduates are working as leading engineers endowed with an environmental consciousness based on mountain and environmental science.
Department of Mountain and Environmental Science - Teaching and Research Faculty