Courses
Department of Bioscience and Textile Technology
Department of Bioscience and Textile Technology
The ultimately high-dimentional functions to harmonize or fuse the frontier fields with the human society and the nature are advanced and multifarious functions which living creatures have. In order to explore their functions from their individual,organic,cellular and molecular levels or to research functions of ideal fibers in the science and technology on "wearing"to investigate their harmony with livings and actions of the human being,following 5 chair courses will be held.
Department of Bioscience and Textile Technology - Course Outline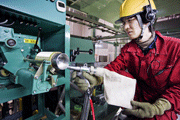 Many years ago, the field of textile-based engineering branched out from the field of clothing to give rise to many other types of industry. Textiles are not just used for clothing these days. Like optical fibers, their fibrous nature has enabled them to support many different industries with their diverse functions. Textiles are starting to take on a new importance in this new integrated field of fiber engineering.

The purpose of fiber engineering, as the focus of this course, is to investigate high-dimensional functions that will enable integration and harmonization of nature, society and individuals, and to pin down the sophisticated and diverse functions of living organisms. We investigate those functions at the organ, tissue, cellular, and molecular levels at the same time as researching new ideal fiber functions able to harmonize human lifestyles and activities with nature.
For this reason, the new field of Kansei engineering has been added to the fields of biology, chemistry and physics, that support biotechnology and fiber technology, to enable research and education of an integrated, interdisciplinary cutting-edge field.

The Department of Bioscience and Textile Technology course consists of five chairs: Technology of Bioscience, Functional Fiber Technology, Smart Materials Science and Technology, Kansei Manufacturing System Engineering and Smart Device Technology (AIST) (collaborative chair).
Department of Bioscience and Textile Technology Courses - Principles
Fiber is the generic term for long thin strands of flexible material, including fibers normally recognizable by sight or touch and even biological and non-biological fibers in the micro- and nano-worlds, and those fibers all have unique functions because of their fibrous nature.
On any scale though, there is still potential for the discovery of unknown materials and functions of fibrous substances, and for the innovative development of new materials and technologies through insight into ergonomic sensibilities.
This course places research of these fibers in the field of Bioscience and Textile Technology as it seeks out the optimum fibers for both individuals and nature. With the collaboration and collective efforts of six chairs, the course drives the development of pioneering research and technologies that are ahead of their time.
Department of Bioscience and Textile Technology - Educational Policy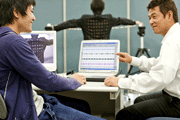 Through research and education on biofunctions and fiber engineering, the Department of Bioscience and Textile Technology course fosters talented people to take the leading roles in this field by training researchers and engineers with specialist knowledge and advanced expertise who are able to establish and resolve research goals by themselves.
For this reason, the course seeks to cultivate the ability to drive research topics, the ability to collect and disseminate information in English, the ability to deliver presentations, and a deeper specialization that also encompasses interdisciplinary thinking.

In fact, it is succeeding in improving the abilities of each student through attendance at lectures given by course teaching staff and international external teachers, by publishing research findings in domestic and international academic societies and academic theses, through internship enterprise training, by improving leadership skills in the research laboratory, and through intense study with fellow students.
This course aims to produce talented people who will become the leaders in a broad range of fiber-related fields in research and education facilities or in the industrial world.
Department of Bioscience and Textile Technology - Careers
Most graduates of this course are engaged in research careers in industry or in research and education facilities, while the main places of employment of these alumni are listed below.

Shinshu University, Tokyo Denki University, University of Nebraska (Postdoctoral Fellow), Institute of Sericulture of the Dainippon Silk Foundation, IT-Related Chemicals Research Laboratory of Sumitomo Chemical Co., Ltd., Idemitsu Kosan Co., Ltd., Cini-Little Japan, Ikari Corporation's Central Research Laboratory, Teikoku Sen-I Co,. Ltd., Synztec Co., Ltd., SDS Biotech K.K., etc.
Department of Bioscience and Textile Technology - Teaching and Research Faculty