Courses
Environmental Design Engineering
Environmental Design Engineering
Outline of Chair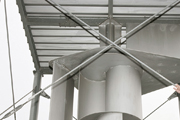 wind turbine devices utilizing natural energy
To make research and education concerning scientific methods of dealing with socio-environmental design of fusion and harmony among the nature and the human being
Research Fields
To Make Research and Education Conerning Urban History,Conservation and Rehabilitation
Analysis of Urban Environment
Architectural Design for Dwelling Environment
Interaction Between Human Behavior and Environmental Design
To make research and education conerning urban history, conservation and rehabilitation
The Methods of Creation and Appraisement of the Physical Environment in Urban and
Bildings
Wastewater Treatment and Water Reuse
To Make Research and Education Concerning Transportation Systems and Travel Behavior
Using technology to examine the environmental impact of reducing CO2in the construction, use and tearing down of buildings
Deformation and Failure of Soft Ground ;Mechanical Properties of Soil
Study on Estimation of Earthguake Forces for Building
Safety and Economic Evaluation and Optimum Resource Allocation in Structural Engineering
Computational Numerical Analysis on Structural Mechanics and Geomechanics
Computational Mechanics in Structural Engineering
Design Methods and Seismic Safety of Connections in Steel Structures
Lectures on Aesthetics of Landscapes with a Bridge,Strength and Load Carrying Capacity of Bridge Members
Performance-based structural design of timber structures will be discussed. Performance
evaluation prodcedure of timebr-besed members and joints also will be presented and discussed in the class
For the purpose of fostering advanced but fundamental scholarship and profound expert
knowledge, this seminar will be held to carry out exercises concerning the field directly
related to the tasks for study.
In order to make students participate in seminars with attendance of teaching staff and
students of the different but related major fields of study invited from the other chairs or other fields so that respective own research can be developed to the other fields other than the particular major field, this seminar will be held to foster abilities to extend to develop or challenge to the other field.
Under the Chief Guidance Teaching Staff and Vise-Guidance Teaching Staffs, to actively
make research on the theme of study which is decided through discussion with the Chief
Guidance Teaching Staff and to make publication (doctoral thesis)."
Students may be trained practically in any public agency and business enterprise if effectiveness on education is recognized.
Teaching and Research Faculty
Toshikazu Tuchimoto   Professor   Dwelling Environmental Planning
To Make Research and Education Conerning Urban History,Conservation and Rehabilitation
Naoki Takagi   Professor   Dwelling Environmental Planning
Analysis of Urban Environment
Mikiko Terauchi   Associate Professor   Dwelling Environmental Planning
Architectural Design for Dwelling Environment
Shigeo Hoyano   Associate Professor   Dwelling Environmental Planning
Architectural Design for Dwelling Environment
Ryouta Yanase   Associate Professor   Dwelling Environmental Planning
Interaction Between Human Behavior and Environmental Design
The Methods of Creation and Appraisement of the Physical Environment in Urban and Bildings
Akito Matsumoto   Associate Professor   Regional Planning
Wastewater Treatment and Water Reuse
Masashi Toyota   Assistant Professor   Regional Planning
Water disaster prevention and water environment
Tatsuo Takase   Associate Professor   Regional Planning
To Make Research and Education Concerning Transportation Systems and Travel Behavior
Hideki Takamura   Associate Professor   Regional Planning
Using technology to examine the environmental impact of reducing CO2in the construction, use and tearing down of buildings
Takeo Umezaki   Professor   Disasters Prevention Engineering
Deformation and Failure of Soft Ground ;Mechanical Properties of Soil
Shinichiro Tamori   Associate Professor   Disasters Prevention Engineering
Study on Estimation of Earthguake Forces for Building
Takashi Kawamura   Associate Professor   Disasters Prevention Engineering
Shrinkage and Swelling Properties of Clay and Prediction of Structure of Clay with Different Consolidation Hysteresis
Toshiyuki Ohkami   Professor   Structural Engineering
Computational Numerical Analysis on Structural Mechanics and Geomechanics
Shigeru Koyama   Associate Professor   Structural Engineering
Computational Mechanics in Structural Engineering
Xi Cao   Assistant Professor   Structural Engineering
Education and Research on Mechanism and Factors of Bridge Deterioration and Life Extension of Bridge
Lectures on Aesthetics of Landscapes with a Bridge,Strength and Load Carrying Capacity of Bridge Members
Evaluation of Seismic Performance of Steel Structures for Safety and Security