Successful Conclusion of the 6th International Sports Science Network Forum in Nagano 2016
Institute for Biomedical Sciences
2016.12.05
Successful Conclusion of the 6th International Sports Science Network Forum in Nagano 2016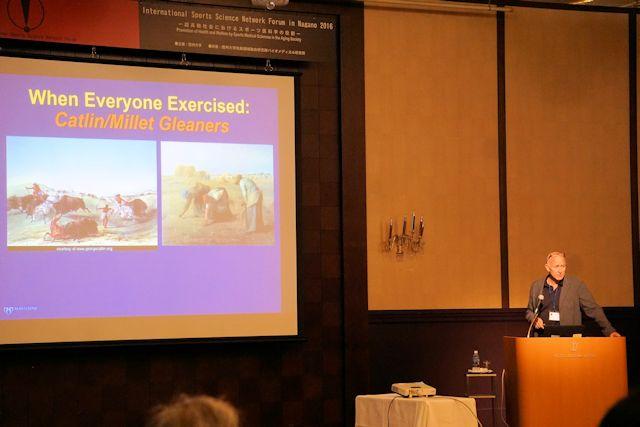 An international symposium sponsored by Shinshu University and co-sponsored by the Institute for Biomedical Sciences and NPO Jukunen Taiiku Daigaku Research Center was successfully held on the theme of "the role of sports medical science in a super-aging society" from November 9th to 11th, 2016, in Matsumoto, Nagano, Japan. The symposium featured 2 keynote lectures along with presentations on 6 key topics: exercise prescription & lifestyle-related diseases, exercise prescription & cognitive function, nutrition, circulatory regulation, temperature & body fluid regulation and genetics. Among the distinguished speakers were 10 from America, Denmark, Spain, and Korea and 9 from Japanese institutions. Between talks, a total of 30 poster presentations from young researchers kept the 116 attendees active with vigorous discussion in a friendly atmosphere. Attendees said that the conference was a great source of leading-edge information on sports medical science.
Among the conference's festivities were a reception and dinner party. Drs. Masato Suzuki, Chairman of Japanese Society of Physical Fitness and Sports Medicine, Kazuyuki Kanosue, Professor of Waseda University, Kunihiro Hamada, President of Shinshu University, Eiji Tanaka, Dean of Shinshu University School of Medicine and Kazuhiro Hongo, Director of Shinshu University Hospital all gave addresses to the guests. Moving performances by a chamber orchestra and flamenco dance group from Shinshu University warmed up the evening.
As Nagano is a prefecture blessed with longevity, the conference emphasized the need for not only a longer, but also a healthier, life span and introduced important current and future developments in sports medical science.