Article by Associate Professor Yuji Shiba on New Regenerative Therapy for Cardiac Muscle Using iPS Cells Published in British Scientific Journal "Nature"
Institute for Biomedical Sciences
2016.11.28
Article by Associate Professor Yuji Shiba on New Regenerative Therapy for Cardiac Muscle Using iPS Cells Published in British Scientific Journal "Nature"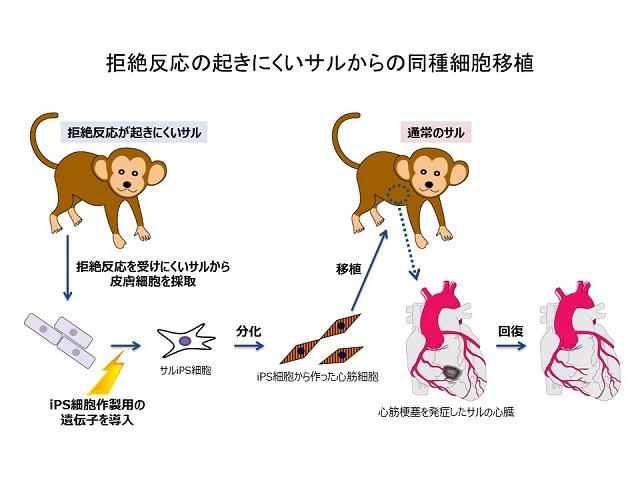 The research findings of the group led by Associate Professor Yuji Shiba of the Institute for Biomedical Sciences, Cardiovascular Medicine, on a new regenerative therapy for cardiac muscle using iPS cells was published in the renowned British Scientific Journal "Nature" on October 10th, 2016. A press conference to announce the news was held earlier on October 7th.
Dr. Shiba's novel method of myocardial regeneration using iPS cells to treat severe cardiac disease has been hailed as a new frontier in regenerative medicine. iPS cells produced specifically from cynomolgus monkeys (Macaca fascicularis
1
) were found to cause the fewest rejection phenomena. Then, iPS cell-derived cardiomyocytes that make up the muscle of the heart were transplanted into monkeys having experienced a myocardial infarction. Successful cardiomyocyte engraftment was confirmed to significantly recover cardiac performance.
Background of the research
Pluripotent stem cells
2
, or ES cells
3
or iPS cells
4
, have almost infinite proliferating ability and can differentiate into any type of cell, which offers numerous possibilities in regenerative medicine. Meanwhile, the continued high morbidity and mortality from myocardial infarction and other heart diseases urgently call for new treatment approaches.
In 2012, Shinshu University reported in "Nature" that cardiomyocytes produced from human ES cells that were transplanted into guinea pigs after a myocardial infarction resulted in improvement of cardiac function. Since then, heterotransplantation investigations of human-derived cardiomyocytes into other species have progressed, but it has been impossible to evaluate rejection since donor cells and recipients were of different species.
Summary of research outcomes
Dr. Shiba's team first identified Macaca fascicularis as exhibiting the fewest rejection phenomena and produced iPS cells from the primates. Then, they developed a myocardial infarction model in healthy Macaca fascicularis and allotransplanted the cardiomyocytes (Figure 1). Successful cardiomyocyte engraftment with little rejection and the recovery of cardiac function were observed. Since the recipients also exhibited transient arrhythmia, however, further research will be needed to reduce such side effects.
This work was supported by research grants from the Japan Society for the Promotion of Science (KAKENHI) and the Japan Agency for Medical Research and Development (AMED). Research representative Yuji Shiba of the Interdisciplinary Cluster for Cutting Edge Research, Institute for Biomedical Sciences at Shinshu University led the project. Itsunari Minami of the Institute for Integrated Cell-Material Sciences at Kyoto University contributed experiments of cell functional evaluation. Ina Research Inc. supplied the subject animals.
Program titles
-KAKENHI
"Development of therapy with myocardial regeneration by using iPS cells on transplantation tolerance model primate"
-AMED
"Project Focused on Developing Key Evaluation Technology: Manufacturing Technology for Industrialization in the Field of Regenerative Medicine, Development of Manufacturing System for Tissue-engineered Medical Products Derived from Human Pluripotent Stem Cell (myocardium, nerve)"
List of terms
1
Macaca fascicularis: Macaca fascicularis are medium-sized monkeys native to Southeast Asia. They are often used as experimental research animals.
2
Pluripotent stem cell: Pluripotent stem cells have the potential to differentiate into any cell type in the body.
3
ES cell: Embryo stem cell. A pluripotent stem cell produced from early-stage preimplantation embryos.
4
iPS cell: Induced pluripotent stem cell. By introducing several types of initializing genes into ordinary human somatic cells, cells similar in nature to ES cells are produced. This discovery was published by Shinya Nakayama and colleagues of Kyoto University.
Article information
Title: Allogeneic transplantation of iPS cell-derived cardiomyocytes regenerates primate hearts
Authors: Yuji Shiba, Toshihito Gomibuchi, Tatsuichiro Seto, Yuko Wada, Hajime Ichimura, Yuki Tanaka, Tatsuki Ogasawara, Kenji Okada, Naoko Shiba, Kengo Sakamoto, Daisuke Ido, Takashi Shiina, Masamichi Ohkura, Junichi Nakai, Narumi Uno, Yasuhiro Kazuki, Mitsuo Oshimura, Itsunari Minami, Uichi Ikeda
Journal title: Nature
DOI:
10.1038/nature19815