Courses
Functional Fiber Technology
Functional Fiber Technology
To make research and education concerning development of new fiber materials,functions,and textile formation process,including technologically applications.
Outline of Chair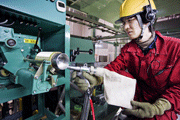 This chair carries out scientific and physical research on the development of new fiber materials, and functionalization and formation of fibers, and researches and educates on the technological application of the developed fibers.

Fiber is the generic term for long thin strands of material, including natural fibers, synthetic fibers and aggregates of the two, but it is also refers to a broad range of high performance materials including proteins, DNA and other biological materials, polysaccharides and other biopolymers, gels which are an aggregation of microscopic fibers, and even the optical fibers and electrical wires used for information and energy transmission.

Being long and thin, fibers are making significant contributions to society through a level of functional sophistication that other materials cannot offer, including their lightweight and highly efficient information and energy transfer characteristics, their functions like trapping, sorting, heat-retention, impact and sound absorption enabled by their large surface area and easily controllable density, and high strength enabled by their anisotropic molecular orientation properties.
This chair utilizes the characteristic functionality of long thin molecules, or molecular aggregates, that all these materials share, and seeks to develop fundamental technologies for designing and controlling product functions that aid society.
Research Fields
This chair is composed of four areas of education and research from the molecular level to the macrofiber aggregate level. Education and research is carried out in these research fields to enhance the functions of fibers and to utilize the result in product development.

The chair has already developed enhanced fiber functionality in nanofibers, high-strength fibers, odor-eliminating fibers, gelling oil solidifiers, new natural fibers and fiber aggregates, new fiber manufacturing methods and staining methods, and advanced airbags using fiber aggregates.
Teaching and Research Faculty
Hirokazu Kimura   Professor   Textile Design and Functional Technology
Studies on Designing and Processing of fiber asseblies
Limin BAO   Associate Professor   Textile Design and Functional Technology
Analysis of dynamic and shocking mechanical characteristic for fiber and fiber assembly
Kaoru Wakatsuki   Associate Professor   Textile Design and Functional Technology
Studies on Designing and Processing of Fiber Assemblies
Kunihiro Hamada   Professor   Textile Design and Functional Technology
Studies on Chemical Properties of Dyes,Finishing Agents, and Auxiliaries and their Applications to Dyeing and Functional Finishing of Fibers and Polymers
Yutaka Ohkoshi   Professor   Textile Formation Process
Studies on Chemical Properties of Dyes,Finishing Agents, and Auxiliaries and their Applications to Dyeing and Functional Finishing of Fibers and Polymers
KyoungHou Kim   Associate Professor   Textile Formation Process
Analysis for Formation Process of Fiber Structure and Development Mechanism of Physical Property
Toshihisa Tanaka   Associate Professor   Textile Formation Process
Analysis for Formation Process of Fiber Structure and Development Mechanism of Physical Property
Akio Sakaguchi   Assistant Professor   Textile Formation Process
Development of Textile Production Method Based on Silk Engineering
Hideaki Morikawa   Professor   Textile Formation Process
Fundamental Studies on the Behavioral System in Silkworm and Application of Computer Technology to the Silk Production Process
Kenji Hanabusa   Professor   Functional Polymer Chemistry
Studies on Functions of Living Creatures from the View Point of Supramolecular Chemistry and their Technical Applications
Masahiro Suzuki   Professor   Functional Polymer Chemistry
Molecular Design of Soft Matter Consisting of Polymers and Supramolecules and Their Applications to Functional Materials
Yoshihiro Itoh   Professor   Functional Polymer Chemistry
Functional Chemistry of Polymers and Molecular Assemblies
Tsutomu Ishiwatari   Professor   Functional Polymer Chemistry
Various Molecular Assemblies and Functional Polymers and Their Application in Nanoparticle Preparation
Yuichi Hirata   Associate Professor   Functional Polymer Chemistry
Studies on transport phenomena of low molecules through polymer materials and their applications to functional separation membranes and barrier membranes
Kousaku Ohkawa   Associate Professor   Functional Polymer Chemistry
Design, Organic Synthesis, and Material Chemistry on Bio-Inspired Polymeric Materials
Development of Asymmetric Organocatalysis and Stereoselective Synthetic Organic Reactions Based on Properties of Heteroatoms
Yoshinori Nishii   Associate Professor   Functional Polymer Chemistry
Development of Highly Stereoselective Organic Reactions and Its Application to Total Synthesis of Biologically Active Compounds
Mutsumi Kimura   Professor   Supramolecular Functional Chemistry
Design of Supramolecular Materials based on Self-assembly and Self-organization Processes of Functional Molecules and Their Industrial Applications
Hiroaki Yoshida   Assistant Professor   Supramolecular Functional Chemistry
Education and Research on Development of Supramolecular and Polymeric Materials for Biomedical and Environmental Applications