World first: Smart Precision Forestry System using Drone Laser Scanning
Department of Forest Resource
2019.01.04
World first: Smart Precision Forestry System using Drone Laser Scanning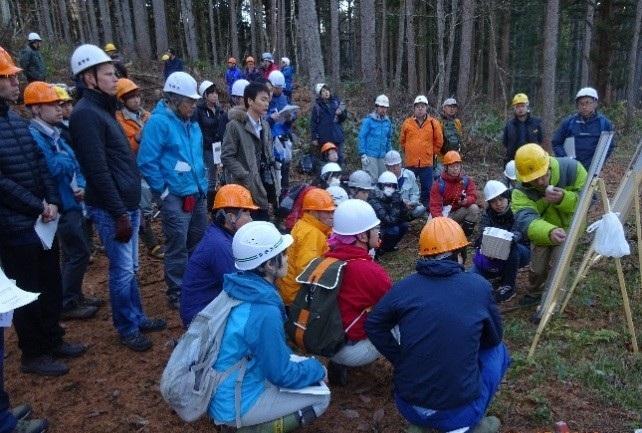 The consortium of "Development of sustainable smart precision forestry using laser scanning technology", in which Dr. Masato Katoh, Professor, Institute of Mountain Science at Shinshu University, serves as the principle investigator, is undertaking the empirical research for the Japanese Government Future Strategy 2018 "Reform throughout the agriculture, forestry and fisheries and smart Realization of Agriculture, Forestry and Fishery Industry". We held the second field demonstration meeting in Yamanouchi-city, Nagano prefecture for the further development of "Smart Precision Forestry Technology" on November 15, 2018.
Subjects of the meeting included "The world's first detection of harvested trees using drone laser scanning and widely used DJI Phantom 4 pro" and "Development, practice, and on-site operation of tree harvest and logging production system using IoT (Internet of Things) harvester".
Prefectural governments, municipalities, forestry associations and timber producers always expend so much energy on forest resource survey before logging practices and logging inspections of cut-down trees. In particular, logging inspection is a big issue to be solved for work-saving of timber production. Professor Katoh's laboratory visualized the cut-down trees by superimposing and subtracting the airborne images taken by drone laser before and after harvest, and successfully developed a calculation method of the amount of logging. It is an innovative work-saving technology that requires only about 10 minutes for measurement, which usually takes a week by labor effort using the field survey method.
This technology is not only an extremely effective practical technology for contributing to forest management and forestry growth industrialization demanded by forest managers and forestry enterprises, but also internationally original research and development.