Junior High School Students Visit for Workplace Experience Program
Institute for Biomedical Sciences
2016.08.31
Junior High School Students Visit for Workplace Experience Program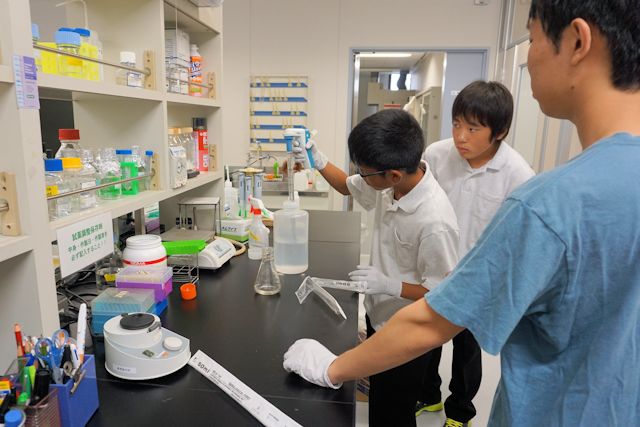 Two junior high school students from the local Azusagawa Junior High School recently visited the Institute for Biomedical Sciences (IBS) as part of a vocational experience program on July 21st and 22nd, 2016. The Ministry of Education, Culture, Sports, Science, and Technology has stated that "Career education is important in educating children in their views of career and work and in cultivating the ability to proactively select and decide career paths." Azusagawa Junior High School aims to discover the joy of working life and simulate real-world situations in this program.
On the first day, the students toured the Teijin Nakashima Medical Laboratory in the Center for Shinshu Medical Innovation of Regional Technology (CSMIT), which is a laboratory rental facility for companies collaborating with Shinshu University in medical-related areas. Associate Professor Hisao Haniu of the IBS and other research members introduced the laboratory, taught the students about cells and cell culture, and demonstrated how to use laboratory equipment.
On the second day of the students' visit, Associate Professor Yuji Shiba of the IBS and other laboratory members gave a talk about genetic engineering and let them perform a genetic modification experiment. Afterwards, the curious pupils learned about regenerative therapy for hearts and were shown the outpatient consultation rooms, hospital ward, emergency and critical care center, and medical helicopter at Shinshu University Hospital.
The students who participated in the program, Tayu Maruyama and Naoki Kurenuma, listened intently to the lectures and worked diligently in their experiments. It was an excellent opportunity for them to enter the minds of researchers and medical staff as well as discover new sides of themselves.
A few days later, the IBS received letters from the young scientists describing what they learned on the program and expressing their gratitude.