Participation in an International Gene Therapy Clinical Trial for Intractable Familial Amyloid Polyneuropathy
Department of Biological Sciences for Intractable Neurological Diseases
2015.09.04
Participation in an International Gene Therapy Clinical Trial for Intractable Familial Amyloid Polyneuropathy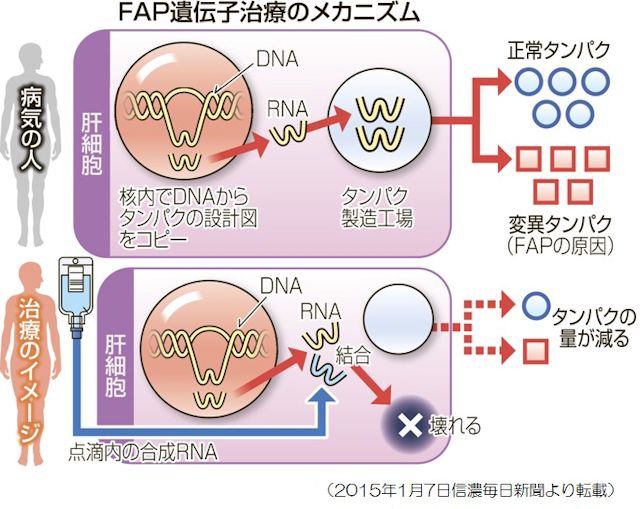 The Department of Medicine (Neurology and Rheumatology) team of Associate Professor Yoshiki Sekijima from the Institute for Biomedical Sciences has begun participating in gene therapy clinical trials for the disease of familial amyloid polyneuropathy (FAP). These trials include medical institutions from ten different countries and represent a world first.
FAP is a serious condition in which the liver produces a variant transthyretin protein that changes to amyloid. Later, the amyloid is gradually deposited in organs and nerves to cause paresthesia of limbs and physical debilitation. Liver transplantation is currently the only first-line treatment for this disease. FAP has officially been designated as intractable by the Ministry of Health, Labour, and Welfare.
Gene therapy for FAP is performed by knocking down the RNA that carries DNA information to ribosomes, thereby inhibiting variant protein formation. For this, patients are given synthetic small interfering RNA intravenously once every three weeks for a year and a half. The synthetic RNA binds to and knocks down endogenous RNA in treated cells. As a vitamin A deficiency may result when transthyretin is not produced, the components of the synthetic RNA will be carefully controlled to produce a safe, potent therapy for inhibiting the progress of FAP.
"Usually, multiple treatment measures are necessary to overcome sickness. If the trial goes well, patients will have a better option." said Associate Professor Sekijima.