Interval Walking Training in Shinshu : Briefing Session and Commendation Ceremony for 10 Years of Continuation
Department of Advanced Medicine for Health Promotion
2016.02.15
Interval Walking Training in Shinshu : Briefing Session and Commendation Ceremony for 10 Years of Continuation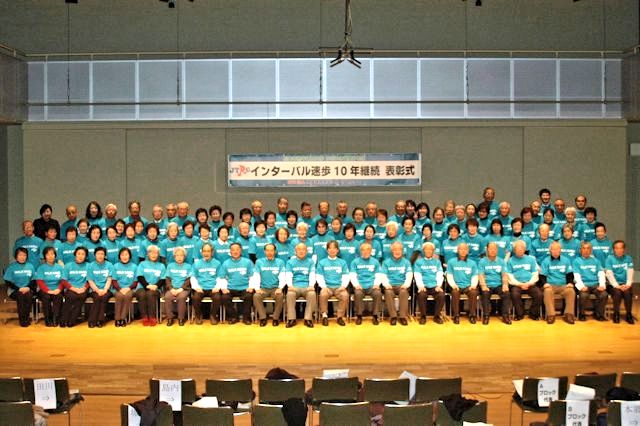 A briefing session and commendation ceremony were held to recognize the benefits 10 years of participation in Shinshu University's Interval Walking Training program on January 23rd, 2016, at The Harmony Hall in Matsumoto. The event was organized by the NPO Jukunen Taiiku Daigaku Research Center (JTRC).
In the session, Assistant Professor Mayuko Morikawa Ph.D. of the Institute for Biomedical Sciences, Department of Advanced Medicine for Health Promotion, reported that of the 585 participants who originally took part in the Interval Walking Training program in 2005, an impressive 109 members (over 18%) have continued their exercises for 10 years. Morikawa pointed out that this was an extremely high adherence rate. Looking at her data, she explained that the participants' muscle strength for knee extension and flexion were 20% to 30% higher, and their endurance capacity was 40% higher, as compared with those of their contemporaries. Morikawa concluded that the 10-year training was highly effective for the prevention of decreased physical fitness brought about by aging.
During the presentation, cheers and applause could be heard from participants, which set a lively tone at the event. Included in the audience was a participant of over 90 years of age with a very emotional expression.
Morikawa and her group will continue promoting their research on the effects of long-term Interval Walking Training.