Open special lecture held - Distinguished Visiting Prof. Juha Hyyppä, Institute of Mountain Science
Department of Forest Resource
2017.04.05
Open special lecture held - Distinguished Visiting Prof. Juha Hyyppä, Institute of Mountain Science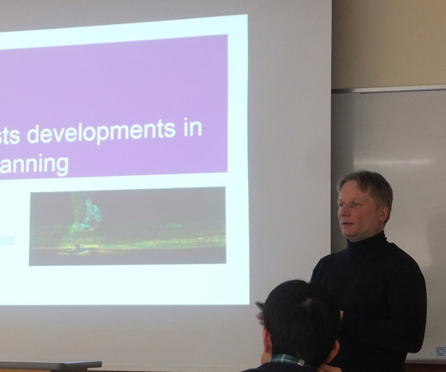 Institute of Mountain Science (IMS) and Finnish Geospatial Research Institute (FGI) are conducting collaborative research on forest laser scanning. Prof. Juha Hyyppä (Director of Centre of Excellence in Laser Scanning Research(CoE-LaSR, FGI), a worldwide well-known researcher, was invited as the Distinguished Visiting Professor of IMS, and international collaborative research, symposiums and open lectures are conducting every year.
Prof. Hyyppä gave an open lecture in Ina Campus of Shinshu University on March 15, 2017. After the introduction of Prof. Hyyppä given by Prof. Masato Katoh (IMS) to the audiences, He delivered two lectures as follows:
 ◆Ⅰ State-of-art in Laser Scanning in Forestry (global perspective)    
 ◆Ⅱ FGI latest developments in Laser Scanning    
Forestry staff, government officers and students from Nagano Prefecture and other areas, attended the lectures. Participants presented several professional questions and showed high interest on the topics.
After the lectures, three members who are Dr. Antero Kukko, Dr. Anttoni Jaakkola, Risto Kaijaluoto of Prof. Hyyppä's team from FGI showed and explained two types of backpack laser scanner. Some participants had a try to measure using the backpack laser scanners.
We will continue the collaborative research with FGI to develop laser scanning technology for Japanese forestry.