Students create Zoom Dramas on SDG12 in the International Co-Learning Project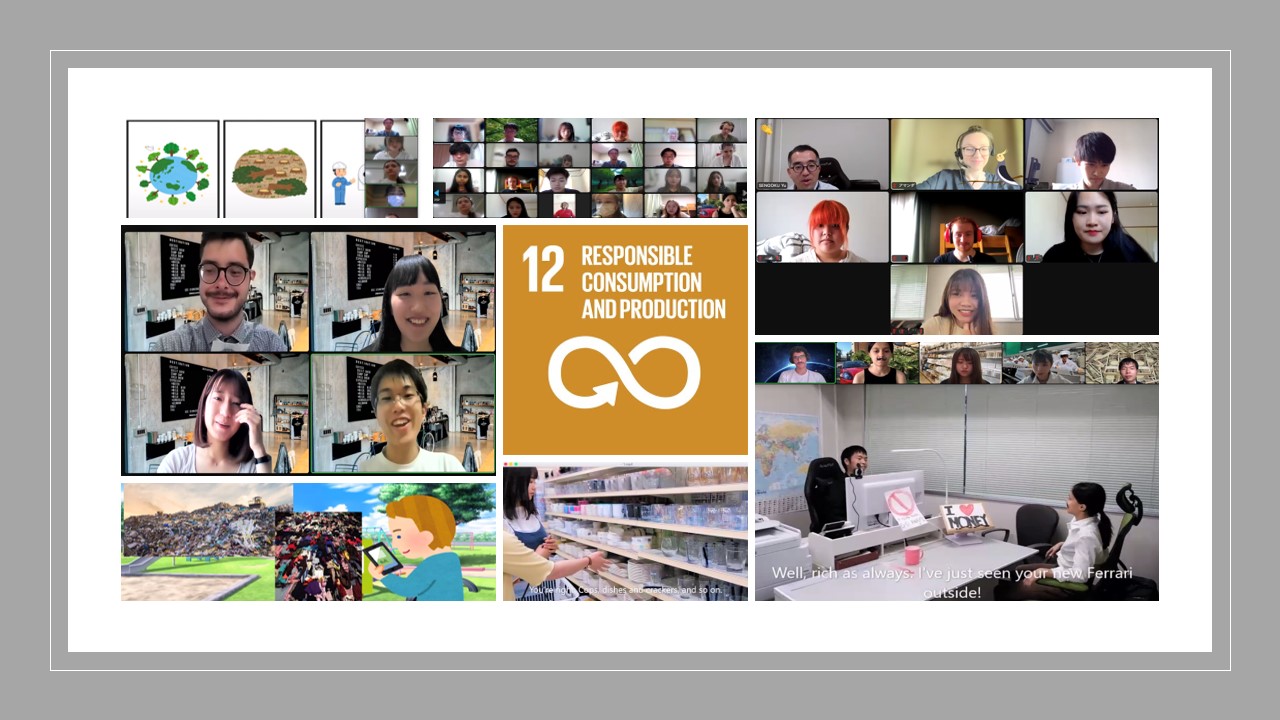 In this year's International Co-Learning Project (ICP), Shinshu University students and exchange students from our partner universities overseas worked together for two months to research SDG 12 "Responsible Consumption and Production" and prepare a Zoom drama which was finally performed on 9 July 2022.
Forty students divided into 7 groups explored topics such as 100-yen shops, plastic waste, paper consumption, coffee-cherry waste, fast fashion, fairtrade and ethical consumption.
We met sad and angry coffee fairies, factory workers suffering in terrible conditions, people from the future and the past, as well as Momotaro and Hansel and Gretel struggling with plastic waste in their own stories.
Each presentation revealed in its own unique way that consumption is not just the simple act of buying a product in a shop. It is about knowing, understanding and agreeing with the practices behind the scenes. It is about using a product for its entire product life and being responsible for its appropriate disposal.

After the project, we received feedback from Japanese students telling us that they had become inspired to learn more about the current state of the world, to connect more with people from different backgrounds or even to study abroad. The exchange students said that they had enjoyed working on the scripts for the plays together and getting to know the Japanese students through sharing and discussing their ideas.
The main goal of this ICP project, organized by the SU Center for Global Education and Collaboration, is to connect exchange students from different countries with Shinshu University students from different study years and to create an opportunity for students to think together about social issues and experience first-hand what it means to collaborate with others in an international environment. For the last two years, the project has focused on the SDGs and on educational goals related to environmental and global issues.