Shinshu University International Exchange Meet Up 2016 Held on November 26, 2016 at the Gakushi-Kaikan, Tokyo, Japan.
 The Shinshu University International Exchange Meet Up 2016, hosted by Shinshu University's Global Education Center, was held at the Gakushi-Kaikan, Tokyo, Japan on Saturday, November 26, 2016.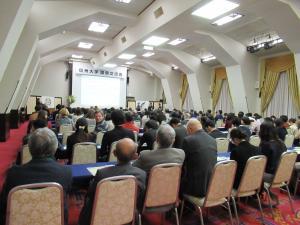 Focused on a global perspective, the event was held in pursuit of seamless, well-coordinated between Shinshu University and International Exchange Alumni Association, as well as Shinshu University's various faculties Alumni Associations with the aim of making the first step for building a wide global network in order to contribute towards the promotion of greater global-scale exchanges and activities among Shinshu University members and alumni. A total of 170 people from 17 different countries including University graduates, people with ties to the University, current students and others took part in the event.
 Shinshu University graduate and freelance announcer, Ms. Satomi Doi presided over the first session of the event. She began with the opening greetings speech from President Kunihiro Hamada, then followed by an overview of the University's current international exchange efforts by Vice President Kiyoshi Tanaka. Next, former Mongolian Minister of Mining Rentsendoo Jigjid and CEO Tomohiro Deguchi of Wakka Japan, Co., Ltd., both of whom are active around the world and graduated from Shinshu University, treated everyone to a presentation in which they talked about their time at the university, what they did after graduation, and their global-scale exchange efforts. During the presentation, Mr. Jigjid presented a painting as a surprise gift, raising the excitement level of the audience even further.

 Following that, President Cui Huixian of China's Hebei Medical University, Professor Misron Norhisam of Malaysia's Universiti Putra Malaysia, Vietnamese management consultant Le Quoc Duy, and Deguchi, all of whom have graduated from or completed study programs at Shinshu University, participated in a symposium together with President Hamada and Vice President Tanaka based on the theme "Shinshu University global networking to connect the world" to conclude the first session of the event. All participants discussed, based on their unique perspectives and standpoints, their experiences and thoughts regarding networking efforts together with Shinshu University, and all the other participants enjoyed the passionate exchanges of opinion and overall amicable atmosphere of the symposium session.
 During the second session of the event, which entailed socializing and interpersonal exchanges and was led by Shinshu University graduate and freelance announcer, Ms. Rin Kan from China. Director Yoshinao Hirano kick started the friendly atmosphere with a toast. As things began to liven up, Chairperson Atsuko Higuchi of the Nagano International Youth Organization of Japan, former chairperson Shinichi Komori of the Matsumoto Foreign Students Support Club, and representatives from other relevant organizations gave some short speeches, and Chairperson Madou Nagai of the International Exchange Alumni Association introduced the association.
 Later, video messages recorded by former international exchange students that are currently living outside of Japan were shown. After that, 11 current international students that are currently studying at the Nagano (Engineering) Campus enthralled the crowd by putting on a fashion show using traditional dress from their countries. Finally, to conclude the event, Vice President Joji Tokui delivered some closing remarks to wrap up the enjoyable event.
 Shinshu University International Exchange Meet Up 2016 transcended the boundaries of nationality, age, and occupation to encourage lively exchanges among all the participants. This event managed to fulfill the main objective and created numerous new opportunities for future global-scale network building.