Presentation on Food Waste issues at Nanbu Elementary School in Minamiminowa Village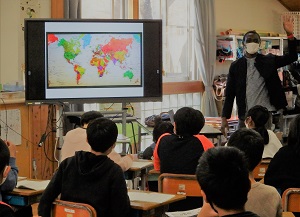 A Lecture on Food Waste was given at Nanbu Elementary School in Minamiminowa Village on November 25th and 29th, 2022, by Dr. Fawaz, a specially appointed Assistant Professor at the Faculty of Agriculture, Shinshu University. The Lectures were intended for 5th and 6th graders during their Home Economics class.

At the beginning of each Lecture, the Home Economics Teacher presented the amount of leftover food that was thrown away that day in the school's canteen and explained to the pupils the objective of the Lecture.

There were three parts to Dr. Fawaz's Lecture: Self-introduction, presentation of Benin and its food culture, and Food waste issues in Japan and in the world. The Lecture was very interactive, with many quizzes to stimulate the participation of pupils. The pupils were very attentive, taking notes and excitedly raising their hands to answer the quizzes.

During the Q & A session, the pupils first introduced themselves and then gave their impression of the Lecture before asking their questions. Their questions were surprisingly very relevant, depicting their high understanding and their curiosity about the subject. Questions such as "why are fruits and vegetables the most wasted food?", "What are the less wasted food and why?" or "the country with the largest amount of food waste in the world is China, but which country has the largest amount of food waste per capita?" were posed and discussed.

From the feedback received, it seems that this very young audience understood very well the issues related to food waste. They were also willing to put effort into reducing their daily waste of food.

Knowing that food waste occurs the most at the consumer level (UNEP, 2020), raising awareness about this global issue, especially early in education, could lead to a consumer behavior change which will undoubtedly make a huge difference.

The Home Economics teacher and the school's nutritionist commented that this Lecture was very easy to understand and expressed the will to increase opportunities for thinking about food waste issues and international exchange with local elementary schools.

We are thankful to the teachers and pupils of Nanbu Elementary School for their collaboration and their warm welcome.