High school - University collaborative international seminar on "Halal food"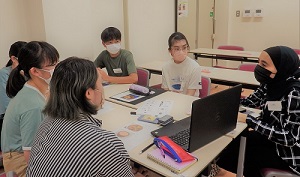 On August 5, 2022, an international seminar on "Halal food" was held on the campus of the Faculty of Agriculture. 12 pupils from Inakita High School participated in the seminar. During the event, Muslim international students (from Jordan and Bangladesh) introduced the concept of halal food to high school pupils through interactive lecture, quizzes, and group discussions. For the discussion part, participants were divided into three groups. Each group includes an international student, some high school pupils, and supporters to facilitate the communication. In the end, each group made a summary presentation of what they learned.
The feedback collected after the event showed that overall, the participants were satisfied with being able to broaden their knowledge of cultural differences.
It is to be noticed that at the beginning of the program, Senior Assistant Professor Sengoku from the SU Center of Global Education and Collaboration (GEC) introduced the international exchange program and COIL initiatives at Shinshu University.
In a fast-evolving world, we hope that this experience will contribute to mutual understanding and spark an interest in broadening international perspectives.