Health Care & Safety
Center for Health, Safety and Environmental Management
International students can sometimes become sick due to the stress caused by cultural differences (e.g. language, customs, food and so on). This center provides the following support services to help you have a healthy and enriching student-life. Please feel free to consult with the center's staff.
Center for Health, Safety and Environmental Management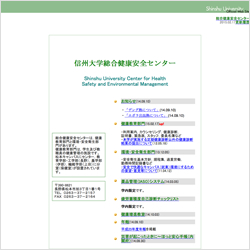 Medical Consultations at Campuses Other than Matsumoto
Consultation services are scheduled to coincide with times when school doctors are on campus. For additional information, please contact the branch of the center of your campus.
| | |
| --- | --- |
| Branch at the Faculty of Education | Tel:026-238-4055 |
| Branch at the Faculty of Engineering | Tel:026-269-5077 |
| Branch at the Faculty of Agriculture | Tel:0265-77-1312 |
| Branch at the Faculty of Textile Science and Technology | Tel:0268-21-5312 |
Taking out a Comprehensive Insurance Policy
The National Health Insurance does not provide coverage in the event that you cause injury to someone or damage property, which may result in severe financial liabilities and mental stress. We highly recommend that you join a comprehensive insurance scheme.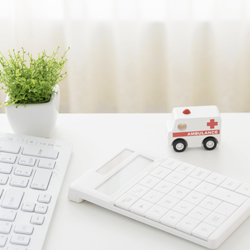 Personal Accident Insurance for Students Pursuing Education and Research
This insurance covers the cost of unforeseen accidents during regular classes, University events, activities etc. You can get further information about this insurance from the Student Support Center or the Educational Affairs Section of your faculty.
Student Mutual Benefit Insurance (KYOSAI) and Personal Liability Insurance for Students (GAKUBAI)
These insurance schemes cover the cost of medical fees incurred by hospitalization and the cost of liabilities towards other persons. You can obtain further information about this insurance scheme from the University Coop.
Emergency Medical Services
ou can get information about the hospitals that offer emergency medical services from the following website.
Nagano Medical Information Net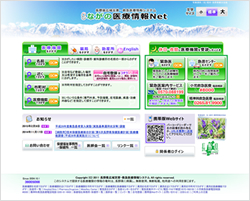 Around Matsumoto City(CHUSHIN area)
Matsumoto City Nightting Medical Care Center of Pediatrics and Internal Medicine
Tel:0263-38-0622【19:00~23:00】
Emergency and Critical Care Center, Aizawa Hospital
Tel:0263-36-9999
Advanced Emergency & Critical Care Center, Shinhu University Hospital
Tel:0263-37-2222
Around Nagano City(HOKUSHIN area)
Emergency Critical Care Center, Nagano Red Cross Hospital
Tel:026-226-4132(main switchboard)
Around Ueda City(TOSHIN area)
Ueda City FA Emergency Center of Internal Medicine and Pediatrics
Tel:0268-21-2233【19:00~23:00】
Around Minamiminowa Village, Ina City (NANSHIN area)
Emergency Medical Care Center, Ina Central Hospital
Tel:0265-72-3121(main switchboard)
Crime and Disaster Prevention
Emergency Phone Number
| | |
| --- | --- |
| Police | 110 |
| Fire Department | 119 |
| Ambulance | 119 |
In Case of Lost or Stolen property
Traffic Accidents
Be Prepared for Earthquakes
In your home:
In case of a major earthquake:
Usually schools and public facilities are used as evacuation sites. Make sure you know where the nearest evacuation site and escape routes are.
You can get further information from: General Affairs Department, Matsumoto City Hall
Matsumoto City Hall Homepage Tel:0263-33-1191