Center for Global Education and Collaboration (GEC)
Shinshu University Center for Global Education and Collaboration (formerly the Global Education Center) was established in April 2019 with the aim of strengthening academic exchange and initiating international public relations activities.

The primary role of the GEC is to promote global education. It encourages Japanese students to study overseas and provides support for international students studying at the University, including the provision of Japanese language classes. Besides playing a general coordinating role in the planning and promotion of globalization throughout the University, the Center also makes an important contribution to globalization and international cooperation at a regional level.
We offer the following services for international students.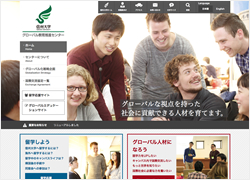 Student Advisory Center
The Student Advisory Center provides various support and counseling to resolve any problems. Feel free to visit us if you have any matters of concern or stress.
Monday to Friday:8:30 am~17:15 pm
Tel:0263-37-3165 e-mail:nandemo@shinshu-u.ac.jp