X-Breed Seminar by Distinguished Visiting Professor Patrice Simon
2018.07.03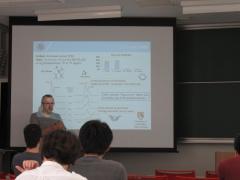 Professor Patrice Simon, a Distinguished Visiting Professor of Center for Energy and Environmental Science gave lectures at Nagano Engineering campus and Ueda campus.
The lecture was titled "Pseudocapacitive materials for supercapacitors and micro-supercapacitors".
The state of the art research from the world leading researcher in supercapacitor field was very inspiring.