Innovative air separation, the research done by group of Special Contract Professor Kaneko
2018.06.04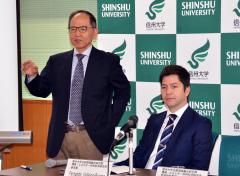 Prof. Kaneko and Dr. Vallejos-Burgos
at press conference
Special Contract Professor Katsumi Kaneko and Dr. Fernando Vallejos-Burgos from Center for Energy and Environmental Science, Shinshu University and a researcher from PSL University, France, theoretically proved concerted motion of the nanowindow-rim to selectively allow molecules to pass, in an energy-efficiently and fast way. This brings up new possibilities to create an advanced molecular separation membrane technology.

The research was published in the Nature Communications on May 4th, 2018

Air separation in current industry uses distillation, which consumes large amount of energy.Development of the dynamic nanowindows-embedded graphenes will save large amount of energy and provide safer and high efficient process. This study shows the future direction of air separation.

"Air separation with graphene mediated by nanowindow-rim cncerted motion"
Fernando Vallejos-Burgos, François-Xavier Coudert & Katsumi Kaneko
Nature Communicationsvolume 9, Article number: 1812 (2018)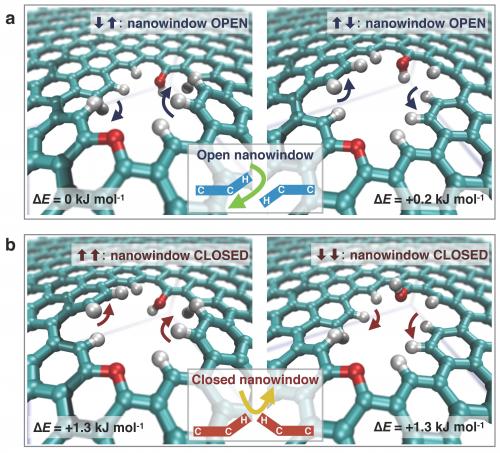 Flapping mechanism in a small nanowindow. © Nature Communications