Prof. Wataru Sugimoto of the Faculty of Textile Science and Technology/Center for Energy and Environmental Science Won the ECSJ Scientific Achievement Award
2018.03.28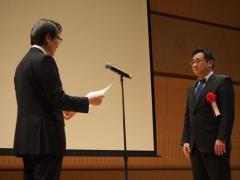 Professor Wataru Sugimoto of the Department of Chemistry and Materials in the Faculty of Textile Science and Technology/Center for Energy and Environmental Science gave an award lecture for the 2018 Scientific Achievement Award of The Electrochemical Society of Japan (ECSJ) at the 85th ECSJ spring meeting held at the Katsushika Campus of Tokyo University of Science on March 9-11.

The award-winning title is "Development of Conductive Nanosheets and Nanoparticles for Application to Supercapacitors and Fuel Cell Catalysts". This prize is awarded to one researcher every year among ECSJ regular member (about 4,500 members) under the age of 50 who achieved pioneering breakthroughs in electrochemistry and industrial physical chemistry. This prize is the highest prize for a mid-career researcher and the second-highest prize amongst the ECSJ prizes.

Professor Sugimoto had been awarded the Young Researcher Award (Sano Prize) (FY2004) and the Best Paper Award (FY2011) from ECSJ, and also had received the Oronzio De Nora Foundation Prize of ISE on Electrochemical Energy Conversion (FY2005) from the International Society of Electrochemistry.

Research outline: Nanosheets and nanoparticles attract attention as high performance materials owing to their large surface area and nano-size dependent physical properties which are often different from bulk. Professor Sugimoto has pursued the synthesis of low-dimensional nanomaterials, in particular nanosheets, with unique properties with emphasis on their application to electrochemical storage and conversion. He has actively pursued the development of various oxide nanosheets possessing high electronic conductivity, as well as their composites and porous electrodes, and to the use of such nanostructures to supercapacitors and fuel cell catalysts. He has successfully proposed various novel concept electrochemical energy storage and conversion systems based on two dimensional nanomaterials, and in particular pioneered research on noble metal oxide nanosheets such as RuO2.