X-Breed Seminar by Distinguished Visiting Professor Annabella Selloni
2016.09.12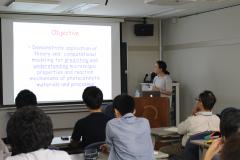 Professor Annabella Selloni, Distinguished Visiting Professor of Center for Energy and Environmental Science, Interdisciplinary Cluster for Cutting Edge Research Shinshu University, had stayed at Shinshu University and gave seminars on September 6th and 8th.

On September 6th, she talked about "Materials and Processes in Photocatalysis: A Theoretical Perspective." to general faculty members of University. On September 8th, "Facet-dependent Trapping and Dynamics of Photoexcited Electrons and Holes at TiO2 Anatase Surfaces and Aqueous Interfaces" was primarily targeted at researchers.

Large audience attended both seminar sessions and have learned a lot about Professor Selloni's research.