Overview
Library Organization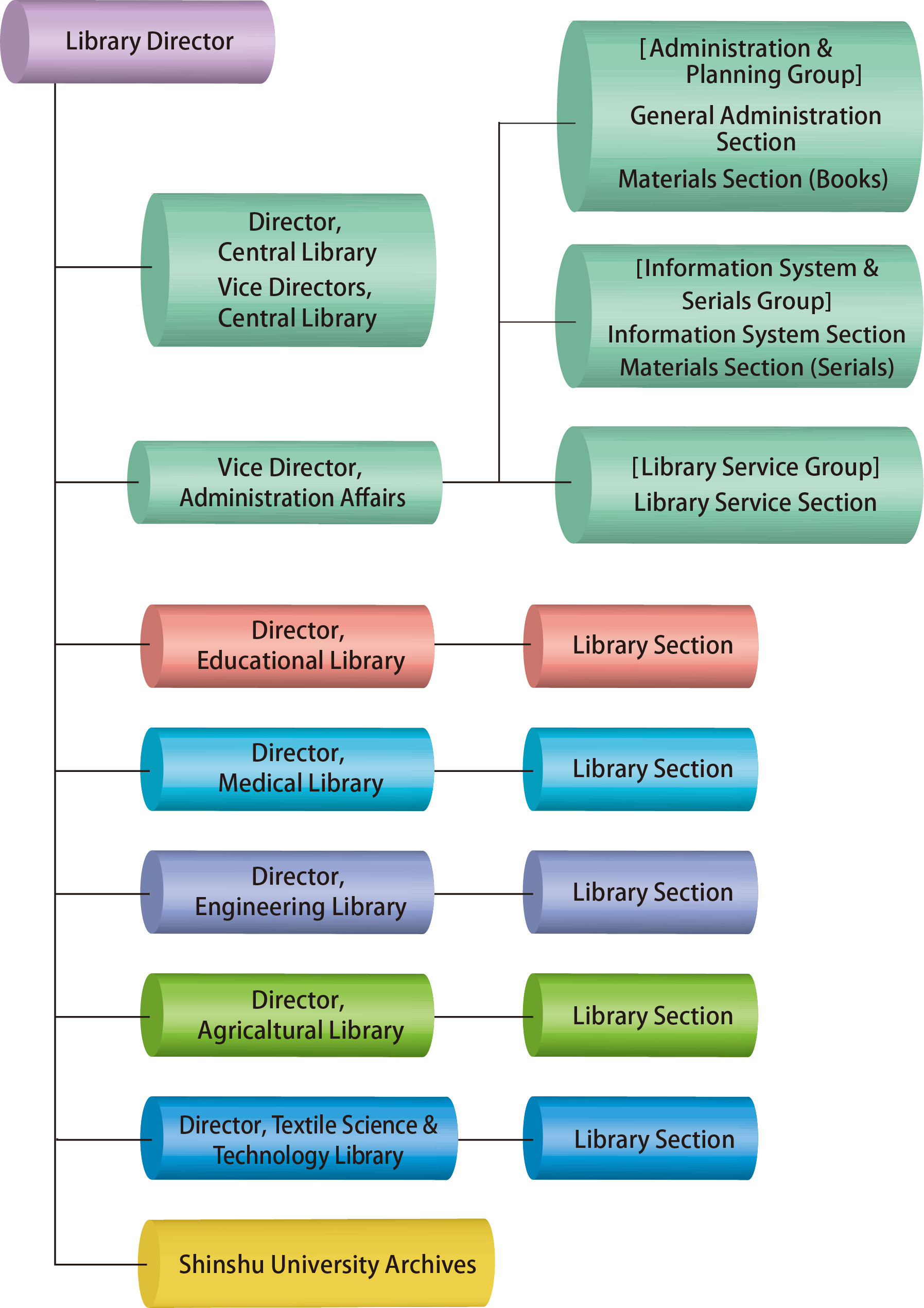 Past Directors of the Library
No.
Name
Faculty
Term
Notes
1st
OMOCHI Shoji
Medicine
1950.6.26-1954.5.31
administrative
2nd
ISHII Zen-ichiro
Medicine
1954.6.1-1963.3.31
1954.6.1-1959.8.1
administrative
3rd
MIMURA Hajime
Dean
1963.4.1-1963.5.15
administrative
4th
OMOCHI Shoji
Medicine
1963.5.16-1965.5.15
5th
HIGASHI Akimasa
Arts and Science
1965.5.16-1967.5.15
6th
NAKAYAMA Kane
Science
1967.5.16-1971.5.15
7th
MATSUZAKI Hajime
Faculty of Arts
1971.5.16-1975.5.15
8th
TAKEI Yoshiteru
Arts / Economics
1975.5.16-1979.5.15
9th
MIYAJI Yoshihiko
Science
1979.5.16-1983.5.15
10th
MIYAKAWA Kiyoshi
Medicine
1983.5.16-1987.5.15
11th
MATSUDA Matsuji
Liberal Arts
1987.5.16-1988.7.31
12th
NISHINA Tsutomu
Liberal Arts
1988.8.1-1990.7.31
13th
MIYAGAWA Michio
Arts
1990.8.1-1993.7.31
14th
HIRAYAMA Yuji
Economics
1993.8.1-1996.7.31
15th
TAMAKI Yoshitaka
Education
1996.8.1-1998.7.31
16th
NOMURA Toshiaki
Science
1998.8.1-2002.7.31
17th
MURASE Sumio
Medicine
2002.8.1-2004.7.31
18th
NOMURA Akio
Engineering
2004.8.1-2009.9.30
19th
SASAMOTO Shoji
Arts
2009.10.1-2015.09.30
20th
WATANABE Kyoichi
Arts
2015.10.1-2021.09.30
21st
TOJO Koji
Science
2021.10.1-
History
1949.5 Established the Library.
1966.4 Agata Library replaced Litarature and Science Library along with the reorganization of the faculty of Litarature and Science.
1966.4 Educational Library replaced the Matsumoto Library of Faculty of Education.
1970.2 Completed Educational Library (1,852 sq m).
1971.3 Completed Agricultural Library (882 sq m).
1971.3 Completed Engineering Library (1,470 sq m).
1972.2 Completed Textile Science and Techonology Library (1,172 sq m).
1973.3 Completed Central Library (3,216 sq m).
1974.4 Integrated Agata Library and Libral Arts Library.
1977.3 Completed Medical Library (1,613 sq m).
1981.3 Built an annex to Central Library (1,227 sq m).
1988.12 Installed library computer system.
1989.4 Started OPAC service.
1989.10 Started cataloging on the system of the National Center for Science Information Systems.
1996.3 Installed CD-ROM database network system.
1996.5 Started department system (1 department with 2 sections).
1997.2 Changed library system to LINUS/U
1998.12 Introduced entry management system and Patron Self Check system.
1999.4 Integrated the accession and technical service for the School of medicine, University Hospital and Medical College to Central Library.
2001.2 Changed library information system to NALIS.
2004.9 Integrated Medical College Library to Medical Library. Set up General Division.
2005.4 Reorganized Central Library into Matsumoto Library and branch libraries into faculty libraries.
2007.8 Released SOAR : Shinshu University Online System for General Academic Resources. Set up Library Service Group, Administration & Planning Group.
2008.4 Abolished General Division.
2011.4 Reorganized Matsumoto Library into Central Library and set up the Information System Group.
2015.5 Renovated and expanded Central library.
2017.4 Established Shinshu University Archives.
2021.10 Renovated Educational Library.
2023.4 Reorganized Information System Group and Materials (Serials) Section into Information System & Serials Group.