ICCER
2018.02.02
Titanium fiber plate: a new innovative material in bone regeneration medicine and fracture treatment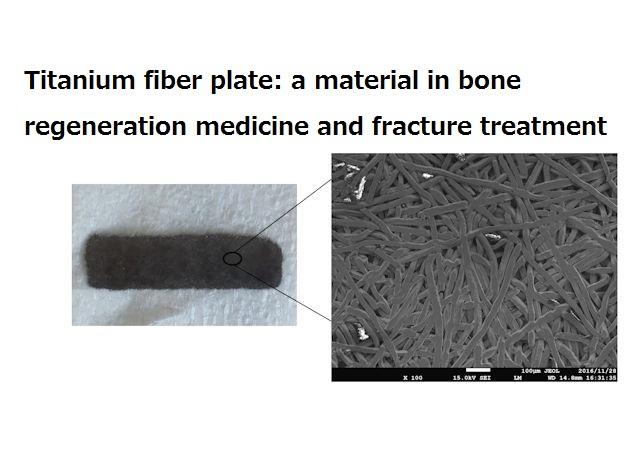 Director of the Institute for Biomedical Sciences Professor Naoto Saito and his team have developed a titanium fiber plate expected to be used as a new material for regenerative medicine and fracture treatment.
The titanium fiber plate is completely different from conventional titanium plates. To produce it, fibrous titanium is molded into a plate. Associate Professor Noboru Nakayama of the Institute of Carbon Science and Technology developed the material and acquired its
patents in Japan and the United States in 2016. Since 2015, Takashi Takizawa (MD, Orthopaedic Surgery, Shinshu University Hospital) has been conducting cell and animal experiments to confirm that regenerating bone and the titanium fiber plate blend together and that the plate has good long-term survival. Conventional titanium plates currently used in clinical practice may embrittle bones and later require revision surgery. In contrast, titanium fiber plates for fracture treatment will not require surgical extraction and can reduce patient burden. The plates may also serve as scaffolding for steoanagenesis after extraction of bone tumors. The group is currently refining the usages of titanium fiber plates with collaborating companies.
A detailed report on the titanium fiber plates has been published in the prestigious German Scientific Journal "Advanced Materials". A press conference to announce this exciting event was held on December 12 th , 2017.
Article
Titanium Fiber Plates for Bone Tissue Repair
DOI: 10.1002/adma.201703608
http://onlinelibrary.wiley.com/doi/10.1002/adma.201703608/abstract
Author
Takizawa T, Nakayama N, Haniu H, Aoki K, Okamoto M, Nomura H, Tanaka M, Sobajima A, Yoshida K, Kamanaka T, Ajima K, Oishi A, Kuroda C, Ishida H, Okano S, Kobayashi S, Kato H, and Saito N.
Journal
Advanced Materials (IF; 19.791)
Publication Date (Web): December 7, 2017