Factory tour at Kuraray in Okayama
From October 8 to 9, 11 students (first-year to fifth-year student) joined five instructors on a visit to KURARAY Co. Ltd., Okayama Plant in Kurashiki, Okayama Prefecture, as part of the Practical Study in Textile Fundamentals course. We would like to take this opportunity to thank everyone at KURARAY Co. Ltd., Okayama Plant who made the visit a success.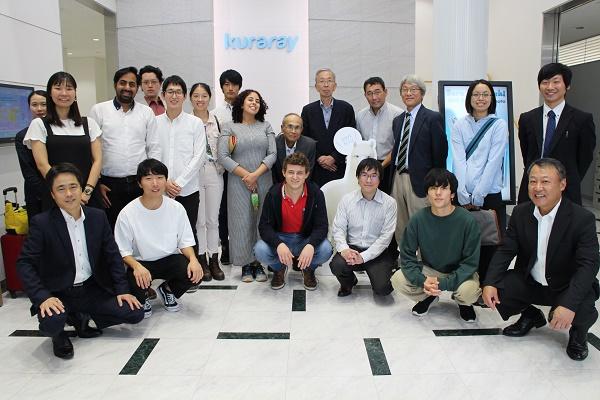 Student Report; Mr. Muhammad Nauman Sarwar (1st-year student)
1.Purpose of participation
Industrial tours are very important for the grooming of students, these tours provides greater clarity about the important management concepts, as students practically experience how these concepts are put into action. This trip was a value added learning method for me as learning only from textbooks, lectures and other study material is not sufficient for holistic learning. The purpose of this trip was to observe the working of industry and become more aware of industry practices and regulations. It was a great opportunity for me to discuss ideas of my research with the experienced and respected management of KURARY Co. Ltd.,

2. Problems identified as a result of participation
This industry trip was a great experience for me because it had given me the first hand information regarding functioning of global industry like KURARY CO. This trip was divided into two activities first a visit of KURARAY Co. Ltd., Okayama Plant and after this a visit to The Ohara Museum of Art. KURARY Co. Ltd., is a major Japanese chemical manufacturer that manufactures and sells high-performance resins and textile products. It was established in 1926 by Magosaburo Ohara. We visited the Okayama unit of the company which was synthesizing Polyester, nylon, synthetic leather. We have visited the synthetic leather manufacturing line. First synthetic polymer's (nylon) filaments are converted into the nonwoven sheet and then this sheet undergoes into needling process which makes the fibers to interlink with each other to impart strength to the nonwoven sheet. After this sheet is passed from the PU impregnation bath. PU entraps into the free spaces of the sheet. The impregnated non woven is then exposed to water containing a coagulant for a coagulation time sufficient to coagulate the dispersion. The resulted sheet is then dyed and finished to used in different applications like upholstery, clothing, footwear, sports and automotive . Following figure will shortly explain the process flow of synthetic leather (" Clarino ") one of the product of KURARAY Co. Ltd.,

3. Results of participation
Over all it was an awesome trip. There was a lot to learn in every aspect. KURARY Co. Ltd., visit bridge the gap between theoretical training and practical learning in a real-life environment. This visit has enabled me to understand the insight working atmosphere of multinational industry. Because of this trip now I fully understand the manufacturing process of synthetic leather. I have a good conversation with the management of the KURARY Co. Ltd., at the dinner and I am pleased to know that they are planning to make nanofiber nonwoven sheets in future rather than micro sheets. It's very interesting for me because currently I am working on nanofibers. This trip has boosted my confidence as more companies are now wanted to work in nanofibers.

4. Utilization in my research
Such industrial visits are great source of getting innovative ideas and broaden the outlook of students with exposure to different workforces from different industries. The techniques that KURARAY Co Ltd., is using to make synthetic leather, I will try to use them to make synthetic leather in nano fibers and then use them for biomedical applications. At the end, I will say thanks to the leading Graduate Program management as well as to the management of KURARAY Co. Ltd., for arraigning such a informative trip for us. I have learned and enjoyed a lot.