Academic Year 2019/Manufacturing and Value Creation Seminar I at BOKU, Austria
A joint retreat for students at the University of Natural Resources and Life Sciences, Vienna (BOKU) and students of the Shinshu University Leading Program was held at BOKU in Austria from September 16 to 21 as Manufacturing and Value Creation Seminar I, which is a required course for first-year students in the Leading Program.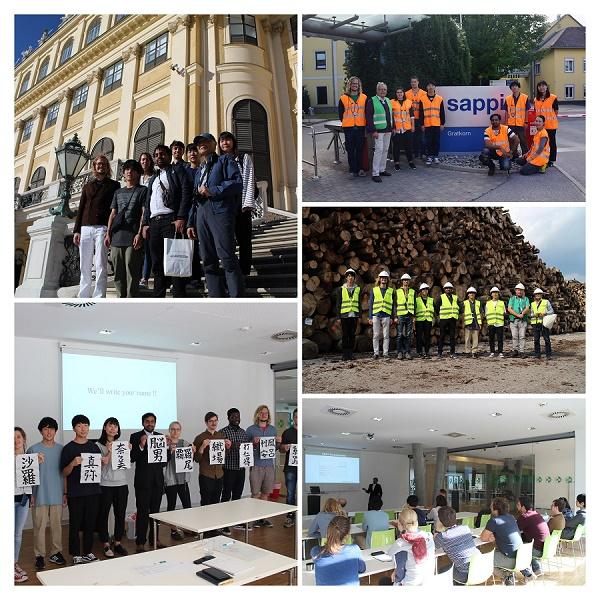 Student's report by Mr. Muhammad Nauman Sarwar (1st-year student)
1. Purpose of participation
Research and cultural workshops are important for the personality grooming of students. The main purpose of this workshop was to exchange the culture, research ideas and themes with students and faculty of BOKU University Austria. Such cross cultural workshops helps in understanding other cultures. Learning about other cultures, helps in reducing the classical barriers and allows more open relationships with the people across the world. Beside this, this type of events not only provide us the opportunity to spend some quality time away from the stressful routine of daily life but also offer us a plate forum to communicate and share our thoughts and ideas with the students of other fields.
2. Problems identified as a result of participation
This workshop was a great experience for me because it had given me the opportunity to learn from the people of different back grounds and mind-sets. This Work shop includes an academic activities at BOKU University, Cultural tour to Royal Schönbrunn Palace, which was the main summer residence of the Habsburg rulers, located in Hietzing, Vienna , the old Winery house visit and visit to Lenzing AG and a paper manufacturing industry. In academic part of the work shop, different students from both universities (Shinshu and BOKU) had presented their research work in oral presentation. After that there was a performance on calligraphy culture of Japan. The visits of cultural places like Royal Schönbrunn Palace, and old winery house etc were very informative and helpful to understand the cultural values of the Austria.
3. Results of participation
Overall, this work shop was a great success. There was a lot to learn in every aspect either, about the academic point or cross-cultural point. The research work of BOKU students had a great attraction for me as their work was on different field than me. Their work has opened new horizon for me. The visit of Lenzing AG industry was very impressive for me; this industry was synthesizing the fibers like viscose, modal and lyocell fibers from wood. And it is the biggest producer of wood based viscose fiber in Europe. As my background is from the textile sector it was very informative for me. I will try to use the knowledge of this workshop in my future work.
4. Utilization in my research
Such cross cultural and industrial visits are great source of getting innovative ideas and learn from the works of different people of different area of world. After academic activities I had a fruitful sitting with the students of BOKU University who were working on lignin extraction and measurement field to understand their working and we discussed about new ideas that how lignin can be used in my field.