Academic Year 2019 / Manufacturing and Value Creation Seminar II at Chulalongkorn University, Thailand
From August 5 to 10, six first- and second-year Master's program students completed Manufacturing and Value Creation Seminar II, a required course, in Thailand. It was the fifth academic year in a row for the course to be held in Thailand.

The course included a joint workshop from August 6 to 8 at Chulalongkorn University, where the students enjoyed academic and cultural exchanges with faculty members and students. The workshop included profiles of research being carried out at the two institutions, poster sessions, and energetic exchanges of views. During a cultural exchange session, students introduced their countries and gave presentations about their culture, including for Japan, Thailand, and Pakistan (where two students are from), in what became an excellent opportunity for all participants to deepen their understanding of one another's culture. Additionally, students from Chulalongkorn University introduced Thai history and culture in a nearby historical district, giving students the valuable experience of learning about Thai people's culture and lifestyles.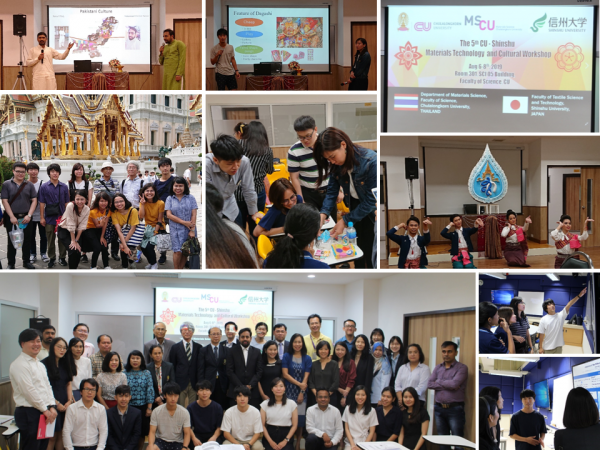 On August 9, students participated in training at the Ayutthaya Plant of Thai Toray Synthetics Co., Ltd. The Ayutthaya region is home to numerous corporate facilities, including some run by Japanese companies, and it serves as a hub among Southeast Asian industrial parks. It was an unusual opportunity to tour an overseas plant's production facility and participate in a question-and-answer session, which went well over the allotted time. Plant officials kindly answered an array of questions about topics including specialized manufacturing processes, the role of global corporations, the skills and abilities such companies require, the kind of job responsibilities given to employees who are assigned overseas, and the manner in which those employees work alongside their local counterparts. The program would like to express its gratitude to everyone from Thai Toray Synthetics' Ayutthaya Plant for taking time out of their busy schedules to not only show students how the plant operates, but also share their views on a variety of topics.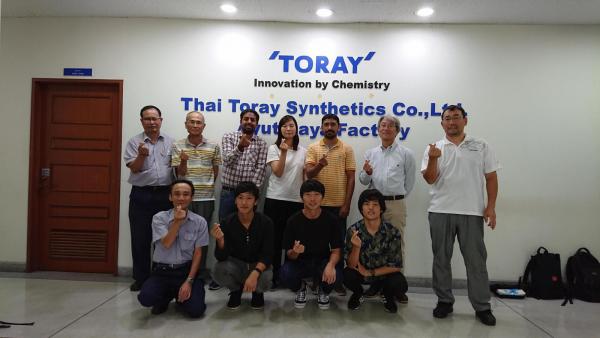 August in Thailand is the monsoon season, but despite the hot and humid weather (Nagano turned out to be hotter when they got back), Bangkok's crazy traffic, and a bombing that occurred just before they arrived, the students were able to complete a meaningful training program and return to Japan without incident.
[Participation report by Muhammad Nauman Sarwar, 1st-year student]
1. Purpose of participation
Research and cultural workshops are important for the personality grooming of students. The main purpose of this workshop was to exchange the culture, research ideas and themes with students and faculty of Chulalongkorn University Thailand. Such cross cultural workshops helps in understanding other cultures. Learning about other cultures, helps in reducing the classical barriers and allows more open relationships and exchanges of thoughts, ideas and themes.

2. Problems identified as a result of participation
This workshop was a great experience for me because it had given me the opportunity to learn from the people of different back grounds and mind-sets. This Work shop includes an academic activity at Chulalongkorn University, Cultural tours to Royal Palace, and Chitraladral Projects and visit to Thai Industry. In academic part of the work shop, different students from both universities (Shinshu and Chulalongkorn) had presented their research work in oral and poster presentation. After that there were some performances on culture of Japan, Pakistan and Thailand. The visit of cultural places like Royal Palace, and Chitraladral Projects etc was very informative and helpful to understand the cultural values of the Thailand. At the end of tour, we visited the unit of TORAY company which was synthesizing Nylon and polyester.

3. Results of participation
Over all, this work shop was a great success. There was a lot to learn in every aspect either you talk about the academic point or cross cultural point. The research work of CU students had a great attraction for me as some researches were related to my work. The visit of Chitraladral projects was very impressive because the king has developed many industries for example Agriculture, dairy, honey, candles, and mushroom culture etc for the awareness of Thai public. The remarkable thing about these projects was this that they were using the wastage and converting it into useable products. Visit of TORAY industry was very informative and helpful for me in learning the synthesis process of Nylon and Polyester. As I am using synthetic fibers in my research work so this knowledge of synthesis process will help me in my future work.

4. Utilization in my research
Such cross cultural and industrial visits are great source of getting innovative ideas and learn from the works of different people of different area of world. After academic activities I had a fruitful sitting with the students of Chulalongkorn University who were working in my field. And we discussed about new ideas. I also like the techniques of Chitraladral projects, how they were using waste to make new useable products and I am interested in using such techniques and ideas in my upcoming researches.
At the end, I will say thanks to the leading Graduate Program management as well as to the management of Chulalongkorn University for arraigning such a informative event for us. I learned and enjoyed a lot.